A Night to Remember: Orchestra and Wind Ensemble Concert of October '23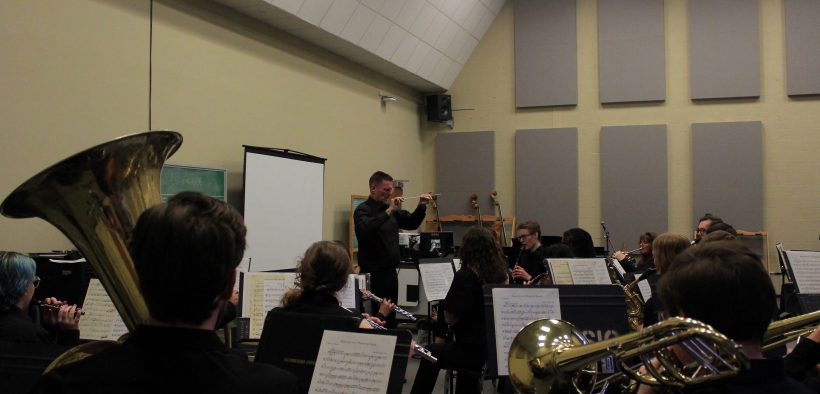 On October 4 2023, a hush fell over the darkened Alma Thomas theater as Professor Ruben Balboa raised his baton. With a flick of his wrist and a sharp inhale of breath, the orchestra began to play.
This is the first of four classical music concerts that will be held in the 2023 season, each of which seeks to expose the student body to a diverse selection of music from different cultures and time periods. The first song, "Otoño en Buenos Aires" from composer Jose Elizondo's "Danzas Latinoamericanas," did just that, guiding the audience through a rich exploration of Argentinian tango music. 
The concert continued with "Hello," a 2014 piece by composer and violinist Jessica Meyer, followed by Capriol Suite, a piece composed of six movements inspired by renaissance dance.
The orchestra portion of the program ended with a bang as the crowd erupted into cheers for the intense rendition of Debussy's String Quartet in G Minor performed by violinists Chelsey Southwell and Seth Sagen, violist Mack Nixon-Hoxie, and cellist Anna Martens. 
In the lobby during intermission, musicians hugged and congratulated each other, buzzing with excitement and pride at the success of their first concert. "I feel as though coming here I finally found people who are as interested in orchestra as I am", stated first year violinist Aiden Caceres, comparing participating in orchestra at Southwestern to their high school experience. "Everyone is here because they want to be, and I can see how much effort people put in. It's been great," they added.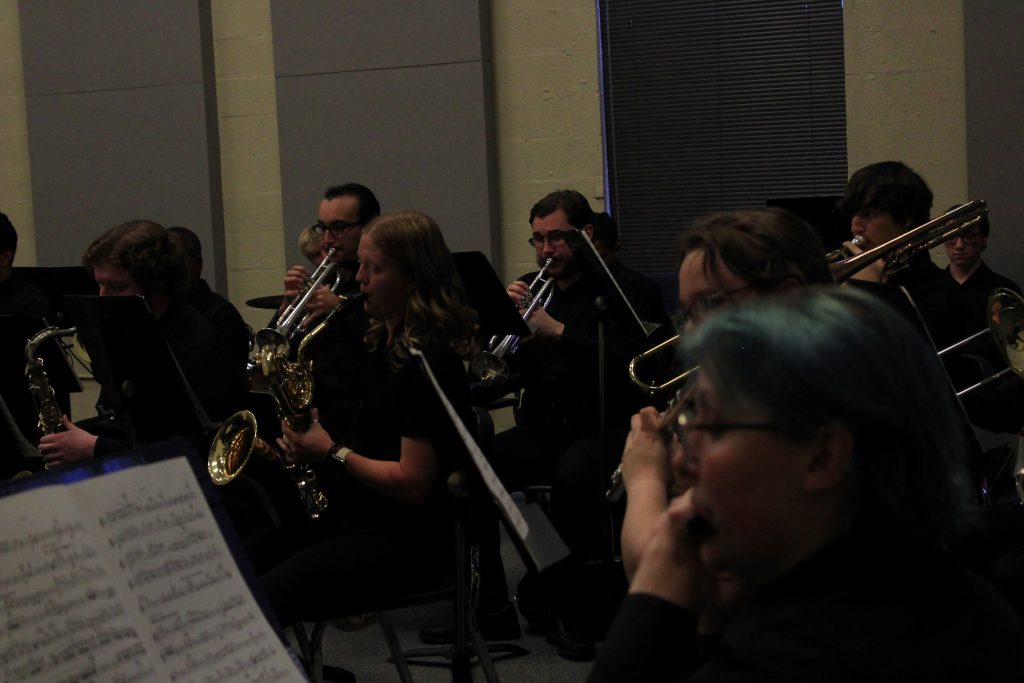 After intermission, it's time to head back into the theater for the wind ensemble, directed by Professor James Caswell. Professor Caswell is new to Southwestern this year, and although he spent most of his career teaching orchestra, he explained to the audience that he "quite felt as though [he'd] come home" to the wind ensemble tradition. The program explored various places and times throughout history, representing different human experiences. Pieces ranged from arrangements inspired by the enlightenment period of the 1700s with a focus on balance and proportion to the prelude from La Traviata, a 19th century Italian opera exploring themes of love and loss. It ended with a 1950s American theme that captures, as Professor Caswell describes it, "a spirit of optimism and triumph—John Wayne music." The wind ensemble featured soloists Emelia Bruton on French horn and Gerald Jones on trumpet.
Each piece performed by the Southwestern Orchestra and Wind Ensemble is completely unique and represents the rich history of music—across countries, across cultures, and across time periods. Coming to these concerts is a way to bond as a campus and as a community, to learn more about each other and the world, and to appreciate good music and talent among friends and classmates.
As Professor Caswell said in the introduction of the wind ensemble, "Music captivates, captures the human psyche in history unlike anything else." The talented musicians of the Southwestern Orchestra and Wind Ensemble are certainly captivating—watch their performance here, and be sure to attend the next concert on December 3, 2023 in the Alma Thomas Theater.