"Fall" in Love with this Cozy Autumnal Playlist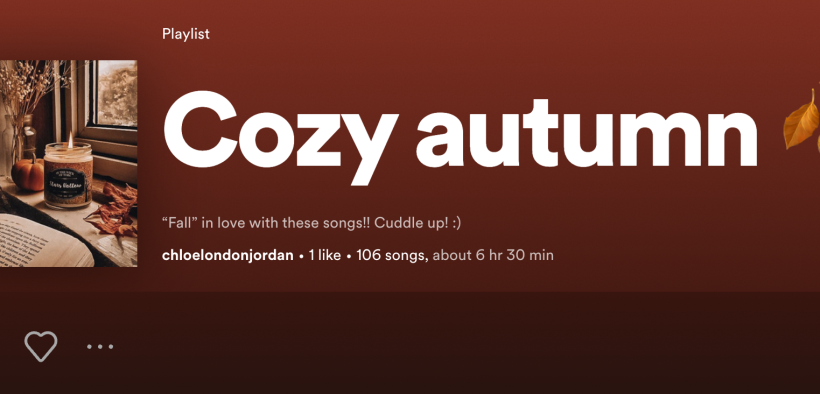 It seems like we were melting under the sweltering Texas sun just yesterday, but on September 23, the autumnal equinox marked the first day of fall. Now, we can look forward to crisp, chilly air and pumpkin spice lattes. It's time to shift from the beachy summer playlist to the cozy autumn playlist that sounds like a warm blanket. Whether you're napping in the hammocks, shopping for spooky dorm decor, or studying at Lamppost, you'll want this fall playlist pinned in your Spotify account!
Roslyn by Bon Iver, St. Vincent
Take a moment to travel in your mind to the all-too-familiar town of Forks from the one and only Twilight Saga. If the chilly blue filter over the screen, start of a new school year, and creatures like werewolves and vampires doesn't give fall, I don't know what else does. Honestly, any song from Twilight could be added to an autumn playlist, but "Roslyn" always pierces my soul in a way that songs usually don't.
Motion Sickness by Phoebe Bridgers
Take one look at the album cover – it displays a person dressed up as a ghost, standing isolated in a sheet. Everything about the vibe of the song signals to me that Halloween is approaching. You can never go wrong with Phoebe Bridgers, so this song will perfectly complement your chill study session.
Cherry Wine by Hozier
If a hot coffee can't seem to warm up your soul, this song will surely ignite it like a campfire. You can picture billowy clouds passing by as the burnt-orange leaves gently cascade to the dry grass. "Cherry Wine" is the perfect song for cuddling with your partner, but it's very easy to enjoy solo too. This song was meant to be the buddy you walk around campus with.
Green by Cavetown
The soft acoustic guitar track paired with his comforting voice will remind you to take some time for yourself to inhale the cool air and wear cozy clothing. Cavetown has a lot of fall-esque songs, but this one in particular is so warm and welcoming. If you need to decompress from a pre-Halloween horror film, this song could be especially helpful.
1999 by beabadoobee
If you haven't heard of beabadoobee yet, you need to check her out! Despite her hard-to-pronounce name, she has a beautiful voice and meaningful lyrics. This song sounds like taking a hike on a trail on an October morning. As the squirrels scurry up the trees and acorns make abstract patterns on the concrete, this song will remind you to appreciate life.
Dream, Ivory by Dream, Ivory
This song sounds like a slice of warm apple pie, freshly baked by grandma (a la mode, of course!) It's on the somber side, but still comforting nonetheless. On a rainy fall evening, this song is perfect for contemplation and listening to your heart. "Dream, Ivory" isn't short of dreaminess and nostalgia, as the name suggests.
Heart to Heart by Mac DeMarco
If you have a close friend or partner to warm your heart this fall, this song is meant for you. It's cozy and emotionally vulnerable. While listening, you'll want to observe the world around you and all its beauty. No matter if you're a people-watcher or an extrovert, this song reminds you to appreciate the people in your life. (Pro tip: give one of your Airpods to one of your loved ones, so you can experience the song together!).
Malibu 1992 by COIN
This song can best be described as absolutely aching and beautiful. It tells the tale of a lost love and nostalgic innocence. It will absolutely break your heart but also wrap your soul in a blanket at the same time. Listening to this song while sipping a hot cocoa or sitting outside in the cool breeze will remind you to really slow down and just feel.
Back to the Old House by The Smiths
As a band, The Smiths produce music that sounds like the essence of autumn, even if it's June. Put on an oversized sweater, Doc Martens, and Sony headphones for the ideal listening experience. Whether you're focusing on studying or baking pumpkin-shaped cookies to prepare for Halloween, this song will spice things up like cardamom. It could also be contextualized for a distressing haunted house encounter, if you study the lyrics close enough.
Sparks by Coldplay
Although this song can be played in many contexts, it is especially poignant around this time of year. Like a flickering, golden pumpkin-scented candle, this song will make your heart toasty and give you the warm and fuzzies. This song is perfect for self care, so it's a great opportunity to gently stretch and rejuvenate or slowly and intentionally go through a skin care routine.
On Earth by The Sundays
This song is absolutely mystical and ethereal. If you want to feel like a witch living in a cottage in the woods or just tap into your spiritual side and reconnect with nature, this song is a wonderful reminder. It sounds like a beautiful sunset, with wispy clouds and a vermillion hue. Grab your chai tea or matcha and sit on a patio if you really want to experience this song. Or, if you're feeling spontaneous, spin around without a care in the world. It's truly healing!
For a more extensive list of cozy autumn songs, go to "Cozy autumn" on Spotify. Happy fall, y'all!