Behind the Scenes of the First Solo Drag Show at Southwestern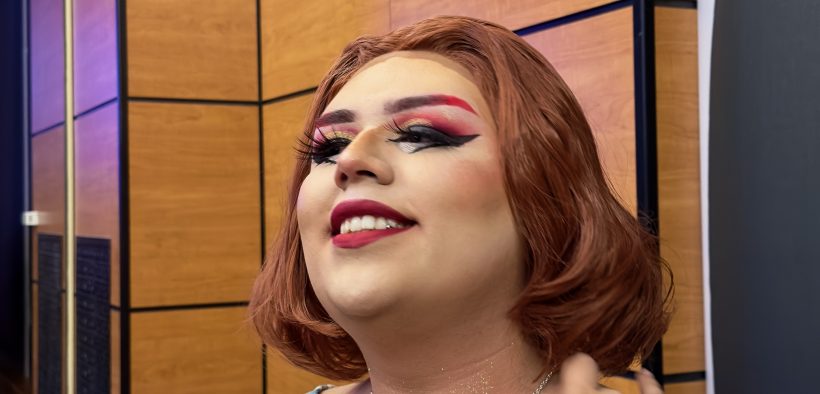 "I am what I am," sophomore Eric Salinas (aka Your X Stasy) sang to his audience last Friday night (1/27) in the Mccombs Ballroom. His performance was the first solo drag performance that had ever been done here at Southwestern. This performance was funded by the King Creativity Fund, which is a grant for students who talk about unique problems in innovative ways. Eric sang magnificently with pride, joy, empowerment, and strength while fully dressed in drag. These are just a few of the many emotions that continue to motivate him to continue his efforts to make the world more inclusive. His show lasted just over an hour; it consisted of nine songs, some of which were taken out of the AIDS Quilt Songbook, and one spoken word poem that related to the LGBTQ+. Eric told the audience, while wearing a luscious red wig and fabulous pink and red makeup: "We're all here to celebrate queer art." The performance, "I Am What I Am, a Queer Protest Through Music and Drag" was an immense success, inspiring each individual audience member to make their voice heard.
The first half of the performance consisted of uplifting, light pieces. Eric's pink opera glove came into sight as he opened the show with "A Little More Mascara" from La Cage Aux Folles. He put on three different mascaras, danced, and went through an entire costume change within the span of the song. Smiles and laughter swiftly appeared on the audience's faces while watching him transform. At the end of the number, he was in a stunning pink mermaid gown with a velvet top, a tulle skirt, and opera gloves. Eric spent the entire winterbreak creating this outfit with his sewing machine. The combination of this dress and the song "A Little More Mascara" was a perfect introduction to the beauty and magic of drag.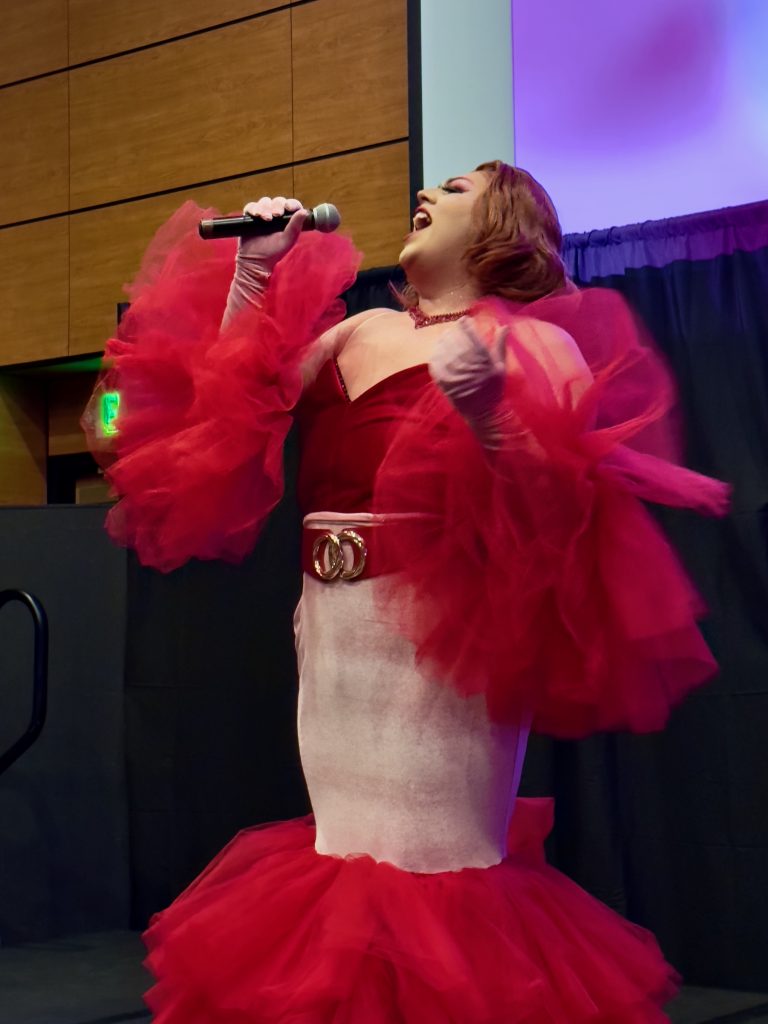 The next song,"Perineo" by Libby Larsen, was a particularly important piece to him. The song was composed in classical form, and written in both Spanish and English. Part of the AIDS Quilt Songbook, the piece has queer themes. As a queer Latino studying classical music, Eric felt that the song represented him strongly. It is a song he can completely immerse himself in. After this song Eric sang "What Makes a Man a Man" by Charles Aznavour; then "Not My Father's Son" from Kinky Boots; and "Alchemy of Healing" by Gilo.
After these five pieces, there was a ten minute intermission. When Eric walked out again, he was wearing a completely different outfit. Eric strutted on stage looking like a star with an eggplant-purple opera gown, an emerald-green cape, and a belt of gold chains. A video that he created appeared on the projector screens; he asked the audience to take these next few minutes to watch. Everyone in the audience had red ribbons resting against their heart, a symbol in support of the AIDS crisis. The video covered the history of AIDS and the mistreatment of the LGBTQ+ community as a result of the epidemic. The mood of the room shifted into a more serious headspace as the video concluded. The AIDS Quilt songbook was an important source in the video.
Eric told me the purpose of the songbook. He explained that it was how classically trained singers responded to the AIDS crisis. Published in 1992 by William Parker, the art songbook had works by Libby Larsen, William Bolcom, and various other classical musicians. All songs included in the book relate to the AIDS crisis and how it affected all Americans, but especially how the crisis affected the LGBTQ+ community. Eric performed two more songs from the AIDS Quilt Songbook, "I Never Knew" by Ricky Ian Gordan and "Walt Whitman in 1989" by Chris Deblasio. The pieces complimented each other both musically and lyrically.
Eric also recited a spoken word poem that showcased the reality of being queer in the 60s. The poem titled "Spare Change for a Dying Queen" was written by Jimmy Centola, and is based on Marsha P. Johnson's monologue regarding the StoneWall Riots. This piece was very eye-opening and personal. The final song Eric sang is a personal favorite of his: "I Am What I Am," from La Cage Aux Folles. The piece encourages individuals "to live life as open and proud as you can because life is only what you make of it."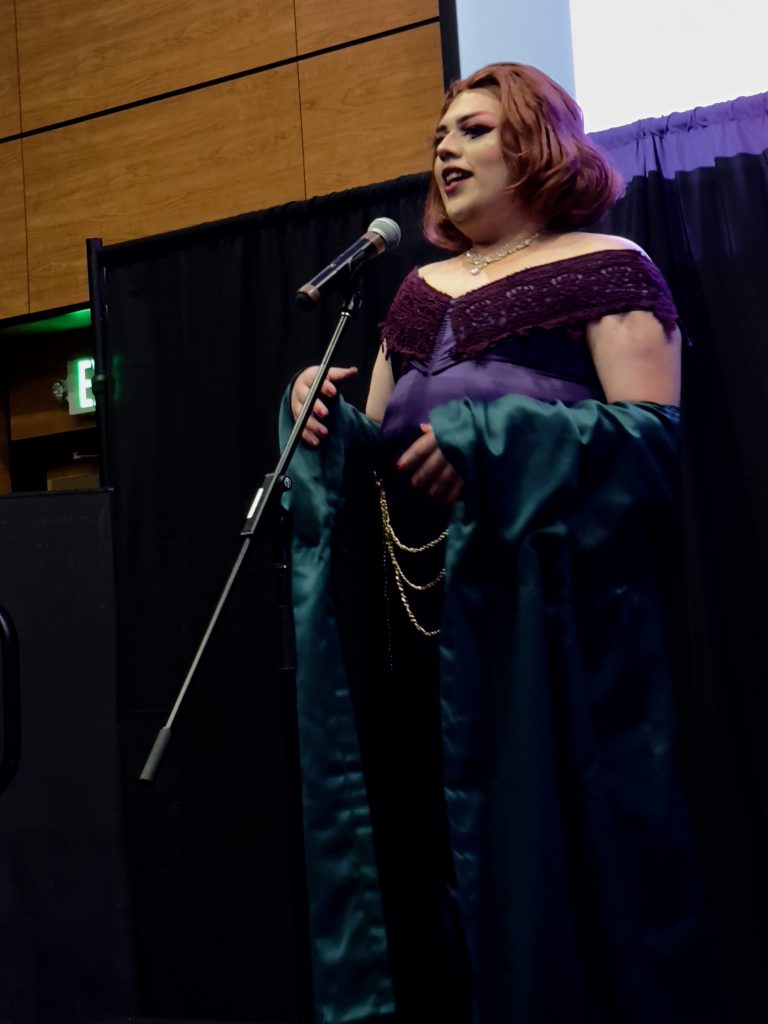 The standing ovation that followed Eric's show was spectacular; everyone in the audience cheered and whistled. Eric showed that using your voice can make a difference; his impact on everyone was extreme. He thanked his parents for allowing him to be himself with them—something he knows is a privilege in the queer community. Eric also thanked Dr. Michael Cooper, an accomplished Southwestern music professor, who inspired and advised him during this process. Visit Eric's website to read his full project statement and watch his performance.