How Having No Cross Country Coach Led to a Great Season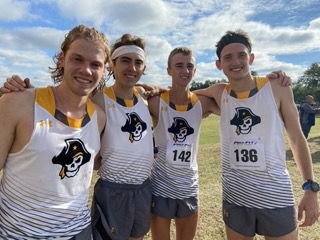 The Pirate's 2022 Cross Country season began as dramatically as possible. Our head coach quit the first day of the season.

Coach Cary told the team that he was leaving Southwestern to coach for St. Edward's University in Austin at our first meeting together, right after the fall sport's physicals. We had only met the freshmen 20 minutes prior, and we barely filled out the roster. Although some of the cross country runners feel that Coach leaving was a bit of a betrayal, it seems to me that the disloyalty actually came from the school towards him; not from him.

As you might imagine, this season has been a bit crazy. However, the team has really pulled together to make it the best year yet. I asked a couple of my teammates for their thoughts on the season so far.

First, I talked to Vincent Kim, a senior who has been with Coach Cary since his freshman year. Coach Cary was a huge part of Vincent's running career. Naturally, Coach's announcement was disappointing, and Vincent found it hard to adjust. However, almost immediately after Coach Cary left, the team rose to the occasion. The season itself has been going smoothly, and Vincent thinks that this is (at least in part) because "Coach Eboh has been going the extra mile". In spite of, or (more probable) because of the dramatic start to the season. Vincent has seen this experience to be "an incredibly impactful and meaningful year".

Cade Rosenquist had a very different experience with Coach Cary, yet he came to a similar conclusion. He is a freshman this year, and the meeting where Coach announced his exit was only the second time that Cade had even met him in person. This (obviously) was a horrible impression to leave. After all of Coach Cary's talk about the family dynamic of the team, Cade thought Coach Cary's quick exit was at complete odds with the culture he had promoted. Cade said,"I understand why he left, but I still take it slightly personally. I think we all should take it a little bit personally."

However, after several months without Coach Cary, Cade agrees with Vincent who thinks " that his leaving actually turned into a great thing and has inspired the team."
Brea Steele, another freshman, has a different take on the situation. She feels Coach Cary leaving, "hurt a lot at the beginning, but in the long run it's proved to be so much better for us as a team." She feels that we should be grateful to Coach Cary for setting up the team for success and that: "in the long run, it's about the team, not the coach." Due to Coach Cary's departure, Brea believes that the team has learned to be independent, to function well together, to compete, and to push ourselves. She says the cross country team"might be competing against each other, but we're all working together and getting better together. I never knew that this was the type of community I needed." Senior Andrew Cutting said, "this situation really made us take ownership of our own team and brought us all closer together."

Personally, I remember last year as a great experience – largely because of Coach Cary. He put a lot of effort and energy into both the team as a whole, and the individual people on the team. Of course, I was shocked when he first told us he was leaving. However, he told us that he wasn't expecting to leave either. He only decided that he was leaving a few days before he told us. The job offer from St. Edwards was unexpected, and he saw it as an incredible opportunity for his family. His dedication to the team necessarily came after his faith in God and his devotion to his family.

I harbor no ill will towards Coach Cary. He saw the chance to do something great for his family, and he took it. I would do the exact same thing. What bothers me was that when he approached Southwestern about the offer, they were extremely dismissive. There was no counter offer, and no effort was made to keep him on staff, even after he spent years building the program from nothing.

That same meeting that Coach Cary told us he was stepping down, the Athletic Director told us that they weren't going to try to find a new coach for the season. This was partly because it was too late to find a good replacement. Yet, it seems to me that the athletic department tends to focus its attention on football before any other sport.

In fact, the women's Lacrosse coach also stepped down this year. The school appears to be looking for a coach, but the lacrosse team's future appears cloudy and uncertain.
Furthermore, the Athletics Department is short staffed. They've been missing an athletic trainer for some time now. Free-lance trainers have been hired to work some games and practices. Some of the trainers have worked 17+ hour days in order to make sure all the sports are covered. I can't help but wonder how long this stressed-out system will be able to stay afloat.
Take all of that to mean what you will.

Anyways…

Now that the Cross Country season is winding down, I can say with confidence that this year is infinitely better than the last. And perhaps we owe that to Coach Cary. I agree with Casey Gilbert, who told me that, "the season has been amazing, and the team feels like a family". We've all grown as people and as a team. I was worried at first, but I think his departure was the fire we needed to push ourselves to the next level."
Thankfully, the cross country team wasn't completely abandoned. Coach Eboh has been incredible. He never planned on coaching Cross Country, but he has been very helpful and supportive. We're also lucky to have C.P. and Nathan (two alumni who were on the team last year). Both of them knew Coach Cary for a long time. So they were very familiar with both the sport itself, and the team dynamic that we wanted to build. They've put a lot of time and effort into the team this year, and it's been awesome having their insight and experience.

The season has indeed been a fantastic one. In fact, the men's team placed 3rd overall at our conference meet on October 29th, which was a school record. Two of the guys, Brian Armijo (who placed 9th) and Xander Bailey (who placed 14th), earned all-conference honors. The women's team is also the best we've been in years, and team unity is at an all time high. As it turns out, as much as we loved him, we didn't need Coach Cary afterall.

I attended our monthly SAAC (Student Athletic Advisory Committee) meeting on 11/01. I learned quite a bit. I met Southwestern's new Athletics Director, Ken Ralph, who has only been here for six weeks. Firstly, he announced that Shea Davisson (the Assistant Athletics Director and Senior Woman Administrator) has resigned; her last day was on November 4. Beside this unfortunate news that is additional evidence of high staff turnover, the rest of Ken Ralph's speech was promising. The department has hired one additional athletic trainer. Director Ralph made several lofty promises, including eventually giving each sports team their own locker room. He said that he wanted to build a football stadium, renovate the women's locker room, and to "do something about Track"… I'm not sure what he meant by this, but it seemed good-natured. Even more promising, he announced that the Athletic Department has been in communication with Human Resources. They have started to analyze staff salaries in an effort to attract new and retain current coaches and staff.

Ken Ralph's promises were hopeful and uplifting. I eagerly await the fulfillment of these promises, or at least proof of his dedication and sincerity.

Long story short, I am very hopeful that we will have a coach for the track season!

Cross Country has one meet left in the season. The team will be traveling to Spokane, Washington for the NCAA Division 3 Regional Meet on November 12.