Texas Handmaids and RJA Protest Round Rock Fake Clinic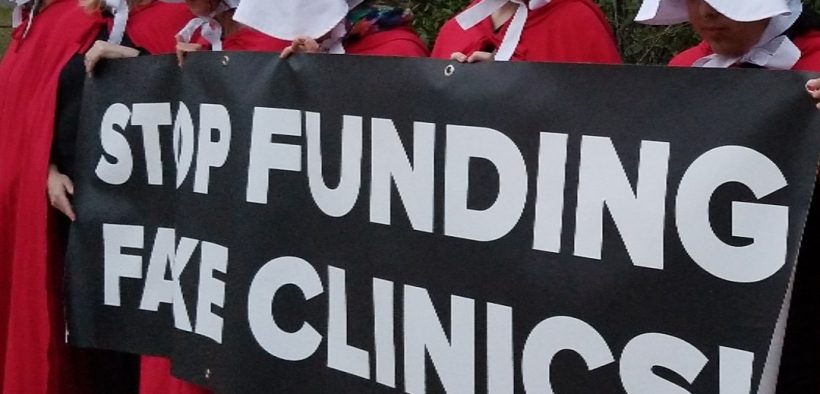 ROUND ROCK, TX – On October 23rd, members of the Reproductive Justice Alliance of Southwestern joined the Texas Handmaids to protest fundraising for the Pregnancy Help Center of Williamson County (PHC), which is a fake clinic here in Georgetown.
The protest took place in Round Rock outside of the fundraiser venue called the Lone Oak Barn, which is usually a spot for weddings and corporate events. People donated to the PHC by purchasing their ticket to attend the fundraiser. Those who were there to protest were dressed in robes and bonnets inspired by The Handmaid's Tale and stood near the entrance holding up a sign that read "STOP FUNDING FAKE CLINICS!"
The term "fake clinic" describes clinics that claim to provide reproductive health care like free ultrasounds and STI testing. Many fake clinics claim to be staffed by health professionals when in reality most employees are untrained in any medical field.
Once someone who is pregnant goes inside one of these fake clinics, employees pressure them with lies, coercion, and shame about their choices regarding their reproductive health. This influence can often delay someone in their decision-making process so that they pass the point in their pregnancy where abortion is no longer legal.
The following is PHC's mission statement as is published on their website:
"The mission of the PHC is to share the Gospel of Jesus Christ by providing spiritual and physical needs of women and their unborn children.  Because all human life is sacred, we exist to bring compassionate help and hope to women who are unprepared for pregnancy; to present abstinence as a positive lifestyle for singles; and to provide opportunity for healing and restoration through Jesus Christ to those who have been hurt by abortion."
Some of the specific services provided by the PHC are pregnancy tests, clothing for pregnant mothers and babies, parenting education, abortion healing courses, "Spanish-speaking assistance (by appointment)," and adoption referrals.
For those who aren't familiar with the book or the Hulu adaption, The Handmaid's Tale is a novel written by Margaret Atwood that was published in 1985. The story takes place in a dystopian setting where women–especially the small percentage of fertile women–have no agency or rights to their own lives or bodies. Fertile women, called handmaids, are placed in a "Christian" household where they are raped and impregnated by the man of the house. The handmaid is then forced to give their baby to the family before repeating the cycle with the same family or a different family until they are no longer fertile.
The Texas Handmaids have meetings once a month in Austin to determine their next plan of action and discuss the various threats on reproductive health throughout Texas. The following is the Texas Handmaids' mission statement as published on their Facebook page:
"Our Mission is to use the dramatic red robes and white bonnets from The Handmaid's Tale to call out politicians and businesses that keep Texas women from accessing reproductive justice."
It takes less than five minutes to drive from the Southwestern campus to the Pregnancy Health Clinic. This five-minute drive is a short trip compared to the forty minute drive a student would have to make into Austin to get real health care expertise and realistic options for their reproductive health, including abortion care.
Members of Southwestern's Reproductive Justice Alliance (RJA) are committed to spreading awareness throughout the SU community regarding reproductive health and access for students. Their meetings are held every Thursday at 5 PM in the Environmental Lounge in Mood-Bridwell.
To get involved with the Texas Handmaids, visit their Facebook page @txhandmaids.