New SU Diving Members Make a Splash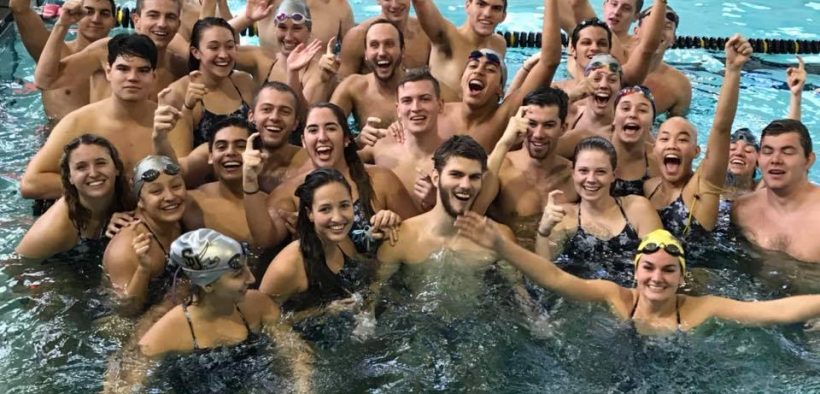 Most people don't think of diving as a team sport. All by yourself, you climb up the ladder, jump off and hope you don't belly flop. Last year Southwestern had two divers. Only one of which, sophomore Kyla Gorman, returned this year, luckily to be met with six other divers.
She admitted to me, "I feel a little pressure to know what I'm doing as the only returner, which is ironic because even though I'm the only returner, I barely have a year of diving experience. Last year I was the newbie who was terrified of entering the water headfirst, and now I'm the one helping the new members push themselves and conquer their fears."
As I spoke to sophomore Kyla Gorman, she seemed very pleased with the increase in divers this year. "I love how our team has grown this year because everyone is super supportive of one another, and it creates such a positive atmosphere for practice."
There are, however, still some road bumps. Gorman admitted, "Most of the new members are new to diving, and diving is a really difficult sport to just throw yourself into and stick to once you get frustrated. I'm really impressed with how perseverant they've been. I know they're going to accomplish amazing things year!"
When asked about how her role as a leader could affect her individual performance. Kyla stated, "I think I've become a lot more confident with my performance because everyone is always super encouraging. Even if I don't hit a skill, someone always makes a point to say something positive about my performance, which helps me fight through my frustration and keep trying."
Although confidence is high, Kyla did state one last conflict she has had to overcome, and that is the loss of her old teammate: "I definitely miss my original teammate, Mauro. We accomplished so much together last year, and he always encouraged me to keep going when I got frustrated."
While she may have lost Mauro on her side, there is a plus side to everything. With the addition of new teammates, the comradery has affected her life out of diving. "We all like to go to dinner together before or after practice, depending on what time it starts, which has helped us all become close pretty quickly. Our team is really big on staying positive and supporting one another, so we try to do things together outside of practice."
SU diving has a strong foundation with strong friendships to boot. We'll have to wait and see if that translates to into season results.