The Bright Light Social Hour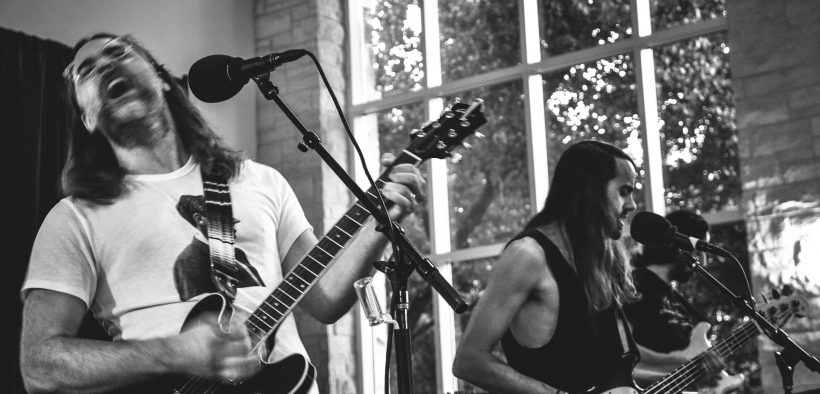 The Bright Light Social Hour (TBLSH), a name you have probably seen flashed multiple times throughout various Austin venues, rocked the stage during the Pirate Parrty on September 7th. With psychedelic aesthetics, sound, and four members with exceptionally eccentric personalities, TBLSH has graced multiple stages such as Lollapalooza, Austin City Limits, South By Southwest (SXSW), and other music scenes with their vibrant performances.
Completely entranced in the way that each band member sang and played their instruments with passion and excitement, I was fully mesmerized by the way each person took a hold of the stage. Edwards Braillif, a relatively new member of the band, slams the guitar and keyboards with ease and a chilling coolness while Joseph Mirasole rocks out on the drums with control (even when his arms are moving at lightning speed and the scarf hidden in the bass drums violently vibrates along with each song.) Turning around during this performance, I saw that everyone has their eyes glued on the band and passerbys of all ages stop midtrack to look at where the symphony of sounds and smooth voices are coming from.
Originated on our very own Southwestern University campus, Curtis Roush '05 (vocalist and guitarist) and his friend Jack O'Brien '07 (vocalist and keyboardist) created the band after Roush took a class called Introduction to Hinduism where he was introduced to the Indian activist Arundhati Roy who described that the job of an activist was to shine as a bright light. As an musical artist, Roush stated that this is similar to what he would want to fulfill as a performer.  
Roush states that there's a version of the band when they first started at Southwestern playing in smaller student populated venues such as The Cove and the Kourouva Milk Bar, and off campus venues such as the Page House. However, this version of the band is quite different from how they define themselves now, more than ten years later from their genesis. O'brien describes TBLSH's musical past life as being revolved around sounds of "ephemeral-post rock-hardcore" colliding with their own versions of 'bizarre' experimental music. However, appreciation oozes out of O'brien's next few words which reflected on the support and enthusiasm of Southwestern's community that was given to the start-up band. As time went on, TBLSH they evolved their sound into a "retro, classic soul, funk song", according to O'brien, that resonates well with the audience's ears.
As an Austin Native band, I asked them how the growth and development of Austin's population as well as how the boost of the overall music industry has impacted them: "There's a shift in the energy of Austin's music scene, even when it's self proclaimed as the live music capital of the world". O'Brien notices the change but notes more on the opportunities that comes with the influx of transformation. The charismatic vocalist says that the musical growth and rapid change brings more people together and there's a sense of cohesiveness, and opens a more national conversation. However, as music grows, so does the city it's in. "It's tough because of the condos and the pressure of the local government and problems of parking. On the whole, people who are coming to austin are creative and tech, conscious of giving back to the city of what makes it cool," O'brien explains. With this growth however, there's a refreshing branch of creativity that comes back to Austin, a full circle return.  What's unique to Austin's music inflation as it's growing like never before? The community that links and brings musicians together. The band collectively nod their heads in agreement and appreciation as they bring up HAAM (Health Alliance for Austin Musicians) provides and subsidized health insurance as well as individual and group therapy. "The growing pains that make the growth of austin more bearable.", Roush says.
Since the release of the last album which took place a couple of years ago, their new EP, which will be released on September 28th, titled "Missing Something", cultivates feelings of excitement regarding releasing new music to the world. Asked if they were entering the music industry today what would they do differently, and the band collectively agreed that they would want to have toured less and focus on the music more. Roush expands by saying, "The distance between records' made it harder to find TBLSH's identity, sound, and voice. We've could have found our sound a little bit better". However, there are no regrets on touring as they were a young band who were eager to play shows. Their music now is more psychedelic, they're always looking for a fresh sound. Looking back on their travels together though, bubbly nostalgia overwhelms the room as they tell me their most adrenaline pumping experience being trapped in their touring van going up a steep hill in Canada during their tour in 2016.
There's also an egalitarian mindset from the band as I ask them who makes the decisions regarding production and writing, and their answers revolve around working together. Their cohesiveness is brought to light especially in the way that the band members all interact with each other. They reflect on how when one member 'brings in the music and there's a shared goal of making something into a bigger and better thing. The creative and executive decisions are done in a 'collaborative' and 'democratic' way", as O'Brien says.
The Bright Light Social Hour's newest album, Missing Something, will be released on September 28th with three remaining shows in Austin, Houston and Dallas.