Pirates Football Conference Change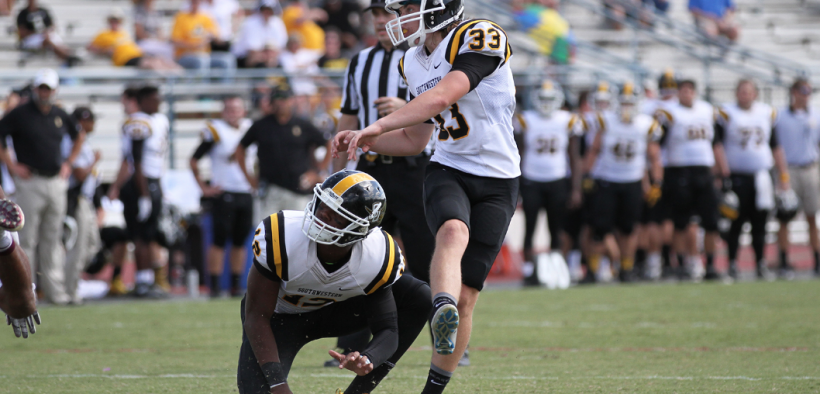 This fall, Southwestern football began their fifth season since the team was reinstated, and their first season in the ASC. The decision to change conferences was made about three years back, leaving the Pirates enough time to claim the championship title in the SCAC before leaving.
"The SCAC only had four football-playing schools," head football coach Joe Austin said. "This was a tough situation for everyone."
Along with a few other schools, SU began looking for alternative conferences for the football team.
"SU has found a great home in the ASC," Austin said. "We are the best academic school in the best football conference. That's a strong position to be in."
Balancing academic performance with the obligations of an NCAA football team can be very difficult, even at less rigorous institutions. Academically, Southwestern is the strongest school in the new conference – but that hasn't stopped the Pirates from going 2-1 in conference so far this season.
"There is no comparison between Southwestern and the other schools in the ASC in terms of academic rigor and outcomes," Austin said. "Our academic strength is a strong drawing point for athletes."
Central to the Pirate football team is also the belief that quality tops quantity.
"We are going to have a typical roster of about 100 players whereas most of our opponents will be over 200," Austin said. "What our players understand, and value highly, is the lifelong benefit that their Southwestern education will afford them. They also understand that we intend to win and be the best high-academic football program in the nation."
Coach Austin has ample experience in building or rebuilding teams. He holds his players to a high standard and expects them to do the same for themselves.
"Our everyday goal is constant improvement. We stress diligence, focus, and attention to detail," Austin said. "These are the same skills we have always stressed and they allowed us to become undefeated SCAC champions last year."
The Pirate football team is quite young, but you probably couldn't tell by watching them play.
"Yes, we have a young team," Austin said. "So it's important that our players take a mature approach to being college athletes – how they eat, sleep and train must have exceptional focus and discipline. Champions behave like champions before they become champions."
Be sure to watch the Pirates this Saturday as they face UMHB here in Georgetown. For more scheduling information, check the Southwestern Football website.