Soundwave 2017: Frontline, The Wild Now, and Alunageorge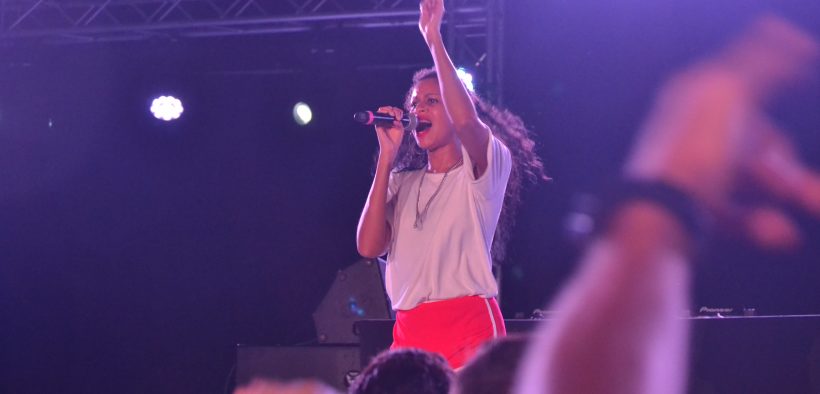 Excited chatter fills the room. Hues of red and purple wash over the audience, illuminating their faces. The music starts, sending booming vibrations across the stage. Aluna runs out, her curly hair bouncing with each step. Soundwave 2017 has officially begun. This year's headliner, British native Alunageorge, is a small step into a new direction. The electronic pop duo is comprised of Aluna Francis, the frontwoman, songwriter, and vocalist, and George Reid, the producer and instrumentalist. The band has been lauded for their pop and R&B flavor, earning them endless tours across the pond and abroad. In addition, Aluna is the first Black female artist to headline Soundwave. Previously, Soundwave had yet to host a musical act in the electronic genre. Earlier concerts dabbled mostly in the indie/alternative rock genre, including acts such as The Mowgli's, The Plain White Tees, and most recently, BØRNS. However, this year's choice (hopefully) opens Southwestern to a more diverse concert experiences in the future.
Soundwave also opened the stage to more local bands, no doubt a throwback to their predecessor, Clusterfest. Clusterfest was Southwestern's first concert series, featuring a multitude of local artists in a festival-type setting. This year's openers included Southwestern's own student band, Frontline, and an Austin favorite, The Wild Now. Frontline earned their position earlier in the semester for their performance at The Battle of the Bands, wowing the crowds with their pop-punk sound. The student band performed their own original songs, in addition to a nostalgic mash up of 2000s hits. The Wild Now, however, brought in a fresh and unexpected sound. Aside from the usual guitars, bass, and drums that are instrumental to any band, The Wild Now also utilized horns in their latest singles, which they debuted specially at Soundwave. Southwestern students were impressed by the performance. "I really enjoyed their sound," sophomore Amari Bethel commented, "The trumpets were unique and overall, their music was very chill."
Students were also treated to impromptu meet and greets throughout the concert. After their set, concert-watchers flocked to The Wild Now for conversations and selfies. Some lucky individuals were even invited to Aluna's green room for pictures and autographs. Aluna lovingly greeted fans with hugs, answering students' most pressing questions. One particularly lucky fan, whose name we did not catch, got the bargain of his life when he met Aluna, gushing that he had "waited a whole year to see [her] in concert,". This year's Soundwave provided a once-in-a- lifetime experience for students and fans to interact with local bands and an internationally acclaimed musician. Here's hoping that next year can top that!
Photos by Sherlyn Ong