Women's March on Washington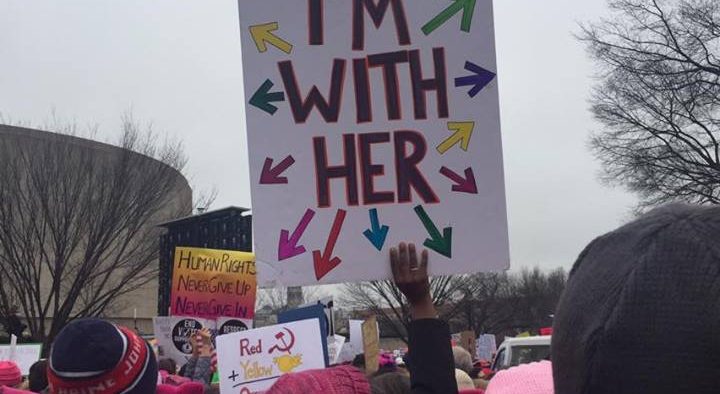 On Saturday, January 21st, a crowd of over a million people congregated in Washington D.C – coming from all corners of the nation. Bringing signs and pink "pussyhats," they prepared to march in the Women's March on Washington (WMW) to support women's rights on the day after the inauguration of President Donald Trump.
Four protesters in the crowd were members of the Southwestern community: Professor of Music Lois Ferrari, Professor of Art Star Varner, and students Emmelina Bales and Anna Mansour.
The WMW follows in a similar vein to preceding movements – suffrage, Civil Rights, abolition, Occupy Wall Street, feminism and Black Lives Matter. The platform for the WMW is also expansive and seeks equality for all genders, abilities, and sexual identities as well as points which specifically address economic equality, a fairer criminal justice freedom, reproductive freedom, labor and environmental protections, and refugee rights.
"I think it was just so many things wrapped up into one," Ferrari said. "It was kind of a pastiche, I guess."
The WMW was organized by four national co-chairs – Bob Bland, Tamika D. Mallory, Carmen Perez and Linda Sarsour – after Trump's election following a vitriolic campaign and election. "I think the whole thing started as a women's rights march, but it also encompassed a lot of other things, and it was anti-Trump – not because we lost the election, but because of what he's done," Ferrari said.
Mansour and her uncle decided to go to the march after the shock of Trump being elected. "I knew there were cool people there who would be in the same boat," Mansour said. Bales attended with her family. "[Trump] offended all groups," Bales said. "And that's why they all rallied together."
Ferrari and Varner found out about the march from a friend, who is also a Southwestern alumna.  Neither of them had participated in a march before, but decided to attend together. "I think it's important to remind people that we're still there, we didn't go away with the election, we're watching and listening and acting," Varner said.
The WMW was unofficially linked with 673 other organic, grassroots "sister marches" worldwide. Marches occurred in all 50 states, in 60 countries and all seven continents.
So why fly thousands of miles to attend the march in Washington D.C. – rather than a more local option? "We wanted to be a part of the bigger picture," Mansour said.  "It would affect Trump more that we were marching against him there."
The organizers of the march had expected 250,000 people to participate. But with a million attendees, the city was jam-packed, making it difficult to use public transportation or get reservations.
The day of the march was cool – but not cold – and skies were gray.  A rally took place in the morning before the march began, featuring speakers including Angela Davis, America Ferrera, Van Jones, Ashley Judd, Alicia Keys, Michael Moore and Gloria Steinem.
Mansour's favorite speaker at the rally was Ashley Judd. "She spoke with such passion," Mansour said. "She said things I felt empowered by.  She talked about period stains and being a nasty woman and taking pride in being a woman and she killed it."
Bales, Ferrari, Mansour and Varner brought their own signs to the march. The two-sided sign that Ferrari and Varner brought read "to make America great, don't berate" and "girls just want to have fundamental rights." It featured two pictures of Varner's nieces. Bales' sign quoted Hillary Clinton: "women's rights are human rights." Mansour brought two signs. One said "we need options not obstacles," and the other said "smash racism." None of the four encountered violence, and no arrests were made at the protest. However, Mansour and Bales were verbally attacked for their participation in the march. Mansour was told to go back to Mexico when she was carrying her "smash racism" sign, and was called a "nasty woman." "I'm not even from Mexico," Mansour said. Bales was called a "babykiller."
The march was also controversial within the feminist movement – it received criticism that the WMW was not intersectional enough and only represented white feminists. The website of the WMW acknowledged this, saying that although the creators of the march were white women, the committees that organized the march had more variety. A statement read that "the team of organizers and volunteers are committed to ensuring that the march reflects women and femme expressive people of all backgrounds."
"I think they tried really hard to include everyone," Mansour said. Ferrari and Varner spoke to the diversity of the people attending the march, and all of the Southwesterners attending the march spoke to the feeling of unity between themselves and other protesters. "The camaraderie was overwhelming and gratifying after such a contentious election," Varner said. "It was a sea of people with beautiful signs, and they were all so passionate and excited, and it gave me hope for the first time since [Trump] was elected that maybe we have a chance here," Mansour said.
The original route of the march was down Independence Avenue to the White House, but other avenues were opened to allow for the huge crowds. "It was the coolest part, there were all kinds of people coming together for this and unifying," Bales said.
All four marchers are back at Southwestern and ready to continue their activism. The WMW has provided a post-march 100-day action plan which highlights a variety of issues which affect women, and asks people to get involved through methods like writing postcards. Mansour is starting a group within the Austin and Georgetown area to meet up and discuss similar types of political activism. "People I know have been calling offices and sending emails and trying to respectfully request people to rethink some things," Ferrari said. Varner has used the march to inspire her artwork – she's currently working on an abstract piece which draws from her experiences.
Ferrari and Varner both try to use their positionality as professors to maintain a neutral space in the classroom and listen to students from all sides of the political spectrum.  "We just have to open up a dialogue," Varner said.  "We need to sit down and talk with one another."
Photos by Anna Mansour