UPC Presents: The Southwestern Showcase and Battle of the Bands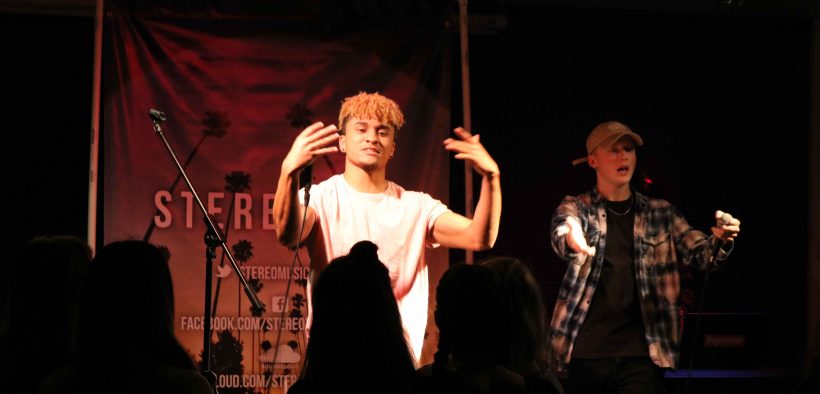 The Southwestern Showcase and Battle of the Bands took place last Friday, February 10. The Showcase is a talent show where students can perform and their peers and friends can cheer them on. This semester the Showcase took place in The Cove followed by the Battle of the Bands.
The show began at 9:30 P.M. with an opening by First-Year Brandon Berry and Senior David Castellano as co-MCs. To start the night off with a bang, Castellano performed a comedy routine involving a roast battle with audience members.
Abby Lloyd was the first performer. She played ukulele and sang a song from Monster in Paris and then played guitar and sang Last Kiss by Pearl Jam. Next up was Anthony Trefny or "Ocean Man" playing three original songs on the piano. Two suitemates performed under the pseudonym "Sherlyn and Mads" They played piano and sang the duet City of Stars from La La Land. Kayla Ingram performed spoken word. She read the beautiful and "angsty" poetry that she had written. Frankie, who you can follow on instagram @frankiesings, sang covers of songs by Beyonce, Michael Bublé and Jennifer Hudson.
The Battle of the Bands was highly anticipated and started shortly after the conclusion of the Showcase. Three bands competed. The first was "Tip of the Apple, Slice of the Pie." They had an "indie" style and sang two original songs "Glue" and "Cockroaches." Then, they sang covers of Numb by Linkin' Park and Mr. Brightside by The Killers. The second band was called "Stereotype". They sang rap and R&B original songs from their new album. The third band was called Frontline, an alt-rock band who sang a couple of original songs and a cover of Closer by The Chainsmokers.
The winner of the Battle of the Bands will be announced at the Ping Pong Ball Drop right before they announce the headliner and opener for Soundwave. Soundwave is a concert held for Southwestern Students in the spring. The headliner for the concert has not been chosen so the date for the Ping Pong Ball Drop is still undetermined. To keep up with the news surrounding this concert, they encourage everyone to follow Soundwave on social media.
Photos Courtesy of Aiden Steinle: