Southwestern Pirates Bringing in the Gold During Conference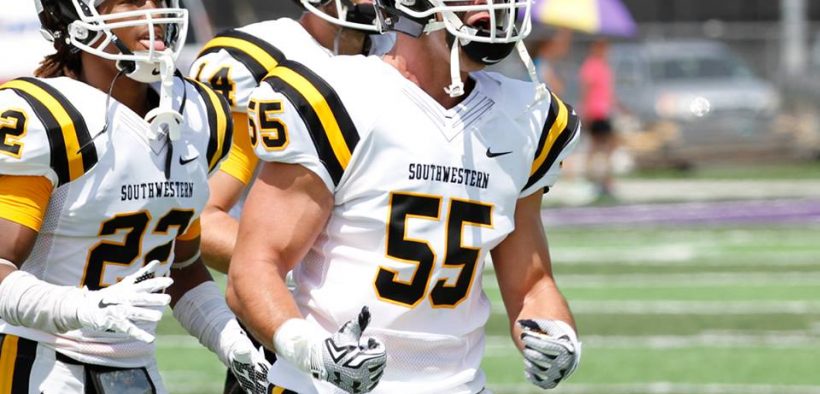 It's looking more and more like Southwestern's year for sports! Last semester, Southwestern's own football team took first in the Southern Collegiate Athletic Conference, also known as SCAC. The Pirates beat out rivals Trinity University, in addition to Colorado College, Austin College, Texas Lutheran University, and more, on the field and won the title of SCAC Champions.
Teammates were rewarded with unique championship rings, which they received last week. These timeless reminders are akin to Super Bowl rings in the collegiate sports world and have been proudly worn by the entire team, which numbers over 80 players.
However, the awards do not stop there.The team has also received the Sportsmanship Award from SCAC. In addition, individuals have received national recognition.
Take, for example, senior Justin Broussard, who has been crowned with "All-American" honors by D3football.com and has been named Defensive Player of the Year by the conference. In addition, Broussard was recently deemed a finalist for the Cliff Harris Awards, which seeks to award the best small-university defensive player in the nation.
However, football has not been the only winners this year. Southwestern's swimming team, who completed their SCAC conference just last week, did not come back empty handed. The men's' team scored second in conference overall, with amazing times clocked by senior Simmon Belaineh, junior Michael Glover, and senior Nathan Townsend. Likewise, juniors Matt Sluss and Mickey Scharbrough snagged silver and bronze in the 200-meter individual medley. The women's team also delivered, claiming bronze medals in the 400-meter freestyle relay for Sam Rao, Madison Doty, Erika Dubros, and Cara Chin.
Let's keep the trophies coming, Southwestern Pirates!