H.E.A.T. Hosts Annual Cupcake Wars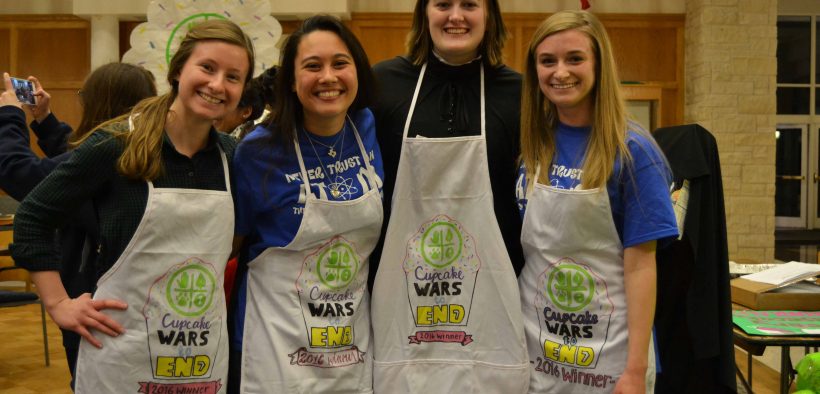 Hey you! Do you like cupcakes, friendly competition and positive activism? On February 22nd from 7-9 p.m. in the Bishops Lounge, both you and your peers will have the opportunity to participate in H.E.A.T.'s annual Cupcake Wars for End 7.
If you are not familiar with the on-campus organization referred to as H.E.A.T. (Humans, Environment, Animals, Team), it is a service organization whose hopes are to improve humanitarian, animal and environmental welfare issues through positive activism. The organization originally started at Texas State and joined our campus four years ago. For two years, the organization has hosted Cupcake Wars and has acquired a great amount of donations for End 7. Thanks to all of your work and participation in the past as this event continues to be one of the most successful events of the year.
For those are unaware of End 7, it is an organization that transports and sets up treatment facilities and medicine donated by pharmaceutical companies to lesser developed countries to aid the 7 debilitating diseases. The 7 debilitating diseases are elephantiasis, river blindness, snail fever, trachoma, roundworm, whipworm and hookworm. It is an accumulation of the little things that can have the most effective result, which is why just 50 cents can aid someone for up to a year.   End 7 predicts that if enough people are willing to help, we could see an end to these 7 debilitating diseases by 2020.
For more information,  you can speak to a H.E.A.T. representative in Bishops Lounge during tabling on February 6th, 8th, 10th, 13th, 14th, 15th, 16th and 17th.  Signing up is simple, however it must be done by February 17th.
A team consists 4-6 and they will need to create a minimum of two dozen cupcakes. An ingredient list of the cupcakes that you will be presenting on the 22nd must be provided as well. Each cupcake will be critiqued by our three judges based on three categories: presentation, taste and creativity. Each team will also be in the running for the "Favorite Cupcake Award" in which the team that sells the most cupcakes will win and receive a prize (which is why two dozen is the minimum). Remember that each cupcake that you sell will be priced at $1 each,  which can free two people from the 7 diseases for up to a year.
The best part about Cupcake Wars is that "helping is not only rewarding, but also delicious"! If you have any questions feel free to email wiltings@southwestern.edu. So please join us in making H.E.A.T.'s third annual Cupcake Wars success. Keep an eye out for advertisements around campus and on postmaster, I promise you it is an event that you don't want to miss.