Profile on Senior Theatre Student: Savannah Coleman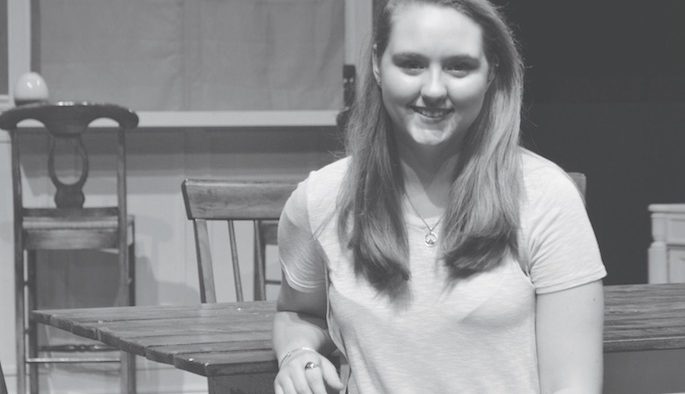 By: Colin Scruggs
During her first year at Southwestern, Savannah Coleman found her place in the theater department. Four years later, she's leaving her mark on stage as student director of "Gabriel: A Polemic."
Coleman will be graduating next spring with a degree in Theater and Communication Studies, and is involved in several organizations including Alpha Delta Pi, Omicron Delta Kappa, and The Catalyst. She lives and breathes theater; as this year's president of Southwestern's drama club Mask & Wig, she plans on teaming up with the Playwriting Club, a new student organization, to make the more student-led theater productions possible in the future.
"Southwestern has given me the opportunity to challenge myself and become better," Coleman said, looking back on her experience on campus thus far.
While directing and collaborating with the playwright of "Gabriel" has proven to be one of her greatest challenges yet, Coleman reflects, "Seeing the play in its final form, ready to be performed, is the greatest sense of seeing how far the play has truly come."
All of Coleman's efforts in overseeing the production of Gabriel were made possible with the dedication and hard work put forth by her team of designers, cast, and crew from the theater department. Though it has evolved in the past four years as students have come and gone, the department is like a family to her.
"We laugh together, we cry together, and we support each other. That has never changed," Coleman said.
When asked about advice she would give to current or incoming students, Savannah recommends those who are interested in theater or even undecided should pursue whatever they love, wherever their passions may lie.
"Even if you think that you may never want to go into theatre after college, all the skills that are required of you in life you can learn from theatre," she said. "You will never regret doing something that you love."
Though she will be sad to leave Southwestern at the end of the year, her time here has really prepared her for life outside of college, and she remains excited to get started.