College Republicans Offer An Agenda of Political Outreach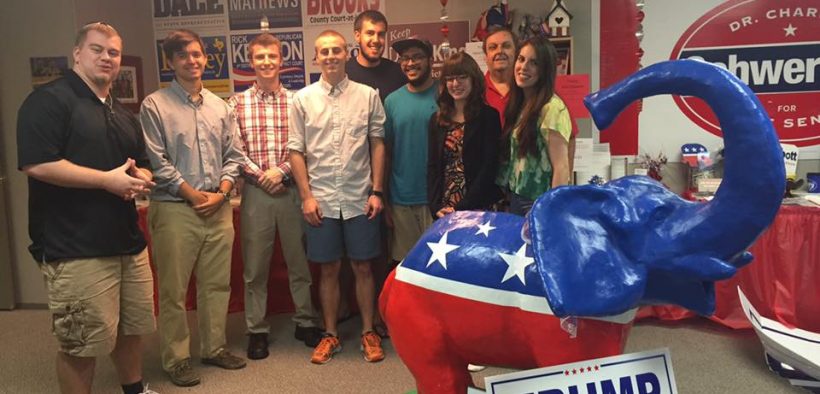 Southwestern University College Republicans was revived last semester, opportunely in the middle of the most contentious United States election cycle in recent history.
With this in consideration, the question everyone wants to know about the nascent organization is if they will be supporting the Republican presidential candidate, Donald Trump.  
"The club is trying to focus not too much on the presidential elections, but on local and county elections," said vice-president of Southwestern University College Republicans Natalie DeCesare.
The organization is not allowed to endorse any specific candidates, as part of the guidelines of the Texas Federation of College Republicans.
"We're supposed to support the entire party," DeCesare said.
Individual members can do their own endorsements, and the club is allowed to supply its members with literature about candidates, but College Republicans cannot donate money to candidates.
"Our direction for the club is to give our members resources, not requirements," DeCesare said.
DeCesare said that College Republicans emphasize connecting with local elected representatives and giving Southwestern students the opportunity to meet local politicians.
"We don't advocate one right way of being a Republican," DeCesare said. "We all agree on the general outlook of the party, and we vote accordingly."
Even though the members of the club range in degrees of conservatism, DeCesare said that common principles are belief in capitalism, free enterprise, limited government and resistance to any form of socialism.
College Republicans has spent this semester promoting its values and continuing campus outreach efforts.
The club has been working on the Voter-Friendly Campus Initiative, which encourages students to register to vote, makes the Southwestern campus an early voting location and provides shuttles on election day to take students to voting locations.
College Republicans will be working together this year with Southwestern's chapter of College Democrats. The organizations are planning on coordinating activities and outreach efforts – such as creating chalk art together to emphasize the clubs' appreciation of political dialogue.
At the end of September, the organization will be attending the Texas Tribune Festival – an annual nonpartisan political conference featuring speakers such as Ohio Governor John Kasich, Senator Ted Cruz.  
The club has also been working on partisan projects.
Southwestern University College Republicans President Jimmy Brymer and DeCesare have coordinated multiple opportunities to facilitate campaigning for local candidates by phone banking and block walking. Most recently, Brymer and DeCesare block-walked in local neighborhoods for the incumbent State Representative Tony Dale from District 136.
The club does not host fundraisers, and receives no funding from Southwestern. Instead, it receives funding from the county party, which is used to host elected officials that come and speak to the club.
At the end of the month, the club will have a meet-and-greet with various local politicians and judges. The club also hopes to have George P. Bush and a terrorism expert speak later this year.