Organizations Come Together to Host CommUNITY Cookout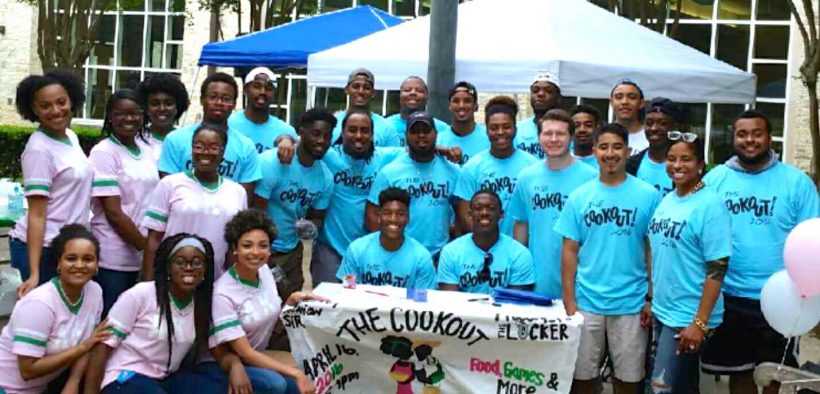 Photo courtesy of Dr. Alicia Moore.
By: Dr. Alicia Moore, associate professor of education
On April 16, the forecast rains held long enough for a new SU tradition to be forged. The members of E.M.P.I.R.E. and Alpha Kappa Alpha Sorority, Inc., Upsilon Alpha Chapter, co-hosted the First Annual CommUNITY Cookout. These two organizations worked hard to carefully plan for this successful event which was attended by 115 members of the campus community. The goal of the Cookout was to provide an opportunity for SU students, families, faculty and staff, from diverse cultures, to unite and enjoy music, games, food and companionship. The event was co-sponsored by the Crestview Baptist Church and SU's own SIRA who provided desserts and games, respectively.
A highlight of the event was an impromptu course called Eating Crawfish 101. This colorful cuisine-specific course was presented by Mr. Dennis Dumes, father of juniors Jahmaal and Jermaine Dumes. The course offered tips on how to eat crawfish efficiently and Mr. Dumes' instructions were as entertaining as they were helpful. All in attendance enjoyed the delicious fare, games and camaraderie. Attendees were chosen at random to receive gift cards as a token of appreciation for their contribution to the CommUNITY event. A portion of the proceeds from Cookout ticket sales, and other monetary contributions, will be donated to the Georgetown Locker which "empowers youth to meet the needs of their community" through service.
E.M.P.I.R.E. and the Upsilon Alpha chapter of Alpha Kappa Alpha Sorority, Inc., are both service-oriented organizations whose mission is to provide service to the SU and Georgetown communities. As well, AKA provides service regionally, nationally and globally.
For more information about each organization, please contact their presidents: AKA: Anne Means and E.M.P.I.R.E.: Brandon Hudson.