Soundwave Concert Rocks Southwestern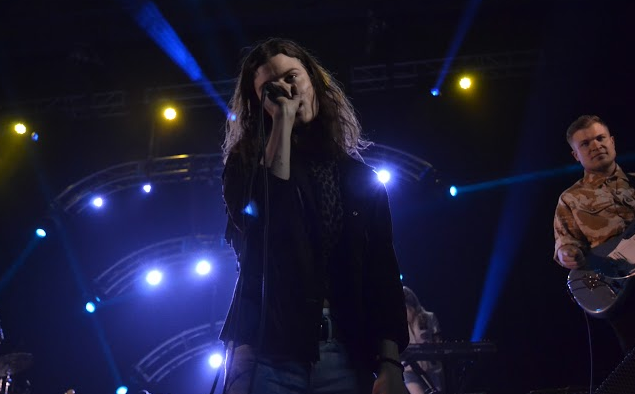 By: Myriam Ibarra
This year's Soundwave concert took place on April 1, 2016 in SU's Robertson Center. Overall, the concert appears to have been a success.
Although the amount of attendees was not as large as was expected, the ambiance during the concert was certainly animated and vivacious. The population of attendees was mostly composed of SU students and people from the Austin area; however, there were people from other places as well.
"The Soundwave team did a great job reaching a target audience outside of just Southwestern students, as I met a lot of Baylor and UT students. I had not attended the concert before, but I invited my younger sister and Young Life students and went with them," junior Sebastian Gualy said.
People were definitely excited to see BØRNS perform. The Soundwave team shared that one attendee even camped outside of Robertson from 9 or 10 in the morning the day of the concert.
The opening act for the concert was a performance by the group STEPHEN, which is spearheaded by Stephen Swartz, an Indie singer-songwriter from LA.
In a brief interview with Swartz, he shared his journey and how he was discovered online. He started playing piano at the age of five. Later on he started playing the drums and composing his own songs. It was while he was studying at the University of Miami that Swartz realized that his calling was to become a musician. Like many rising young artists, Swartz was discovered through a video of his song Bullet Train on YouTube. When asked how long the whole band had been together he responded that they'd only been working together for a couple of months.
At the end of the interview Swartz briefly discussed his newest album, Sincerely. The songs tell the beginning of his journey in LA and the development of his music career. He shared that this album was very personal—some songs involve the struggles of facing his inner demons and other obstacles in his journey—and that he hopes his audience will be able to relate to these stories and appeal to the honesty in his lyrics.
When interviewed about her experience, sophomore Madeleine Ezel said that she had a good overall experience. Ezel was a bit surprised by STEPHEN's performance, specifically his comments between songs.
Ezel had not attended Soundwave in the past and she had never listened to BØRNS before but she really enjoyed his performance.
"I really had a good time jumping around and singing with my friends. I was born again at BØRNS," she said.
Ezel mentioned that her favorite part was being able to pay with Pirate Buck$ since as a college student one doesn't always carry hard cash around. She also questioned where the money went and suggested that Soundwave could partner with a non-profit in order to attract more attendees.
"That way people know that their money is going to a good cause," she explained.
Due to time constraints, BØRNS was not available for an interview. The energy surrounding their performance, however, was absolutely electric.