Baseball Struggles in Beginning Stretch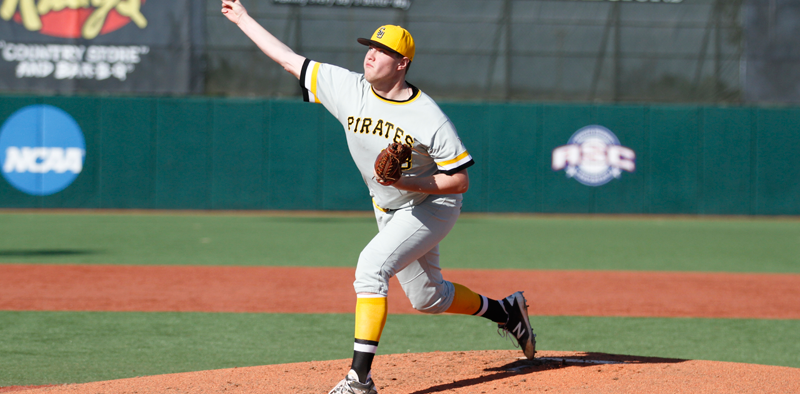 By: Andrew Kevin Pratt
The Pirates Baseball team has gotten off to a slow start this season, however they still have a bit of a tune up left until conference play begins.
The men currently sit at 3-10 on the season with a three game series against Schreiner University slated for this weekend. Though the teams share a conference, this series will not count towards the overall standings.
The season began the first weekend in February when the team traveled to Montgomery, Ala. for the Firehouse Classic. The team went winless that weekend against Huntingdon College, Randolph-Macon, and Millsaps.
The first win of the season would not come until the Pirates dominated Pacific University by a score of 19-7. Success did not last too long though as they were halted by then-#2 Emory University.
The following two weekends had some bright spots in them. The Pirates took the first game of a non-conference series against Centenary College and narrowly lost the second in extra innings.
Last weekend, #18 Concordia University (Texas) took the three game series 2-1. The Friday night game went 10 innings before the Tornados scored two runs to end the game 3-5. Saturday, the Pirates split the day, winning the second game with a narrow 4-3 score.
On Tuesday, the Pirates tried to rally late against the Crusaders of the University of Mary Hardin-Baylor. The men began a surge during the fourth inning and were able to halt their opponents to two runs in four innings. Unfortunately, the rally was not enough and fell with a final score of 10-12.
During the week of the Centenary series, Senior Joe McCormack was praised for his work on the mound. The honors came as he helped close out the victory for Southwestern against Centenary, collecting 26 strikes in only 37 pitches and pitching three scoreless innings.
McCormack earned both SCAC Pitcher of the Week and named to the D3Baseball.com Team of the Week. The senior has been recovering from Tommy John surgery for the past two seasons, so his work has been greatly missed.
Now that he is healthy, he is able to help lead the Pirates to success.
Conference play for the Pirates begins next weekend when the Pirates travel to San Antonio to play rival and three-time defending conference champions Trinity University.
After a week break, the men will host Schreiner University in a rematch of this weekend's series.
The SCAC Championship will be held from April 29 through May 1. The site has yet to be determined.