Catfish and The Bottlemen at Emo's East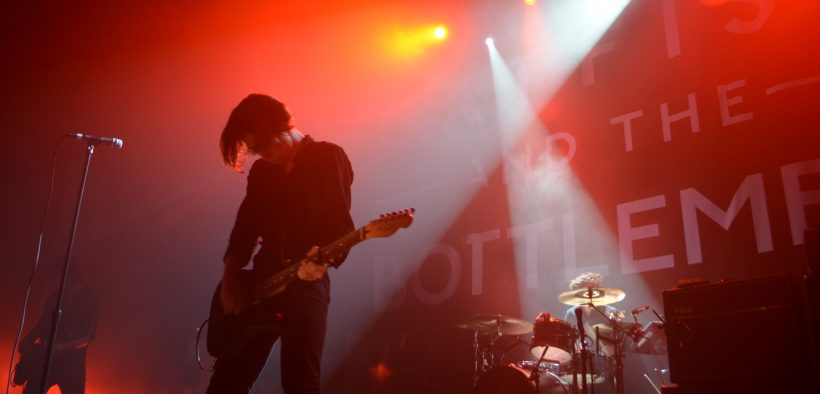 By Emily Booher
As far as the world's boy band culture goes, Catfish and The Bottlemen are a bit of an exception to the cliché cutout. Their moody garage rock is just shy of the Arctic Monkeys and only a step away from recent crowd pleasers like The 1975. Based out of Wales, the band delivers a show filled with plenty of catchy tunes that will have you humming all the way home.
Their Austin show seemed popular enough, with a healthy looking crowd at East side venue, Emo's. Youth radiated from The Bottlemen's lyrics, like in their popular single "Cocoon" where vocalist Van McCann candidly tells his love interest, "I remember when we swapped names, and I thought maybe you'd stay and try to out drink me."
Yet on stage, their presence is entirely different than one would expect from just listening to their recordings. The vibe is ominous, even brooding. Dressed in all black, with an all black, inconspicuous backdrop, not one member seemed to be phased by the screaming fangirls in front of them. The grimey, yet complex guitar riffs proved to the crowd that this band isn't a force to be reckoned with on skill level.
Though only having released their debut album "The Balcony" back in 2014, the guys showed off their chops like a rock band who's been in the limelight far longer than just over a year.
There's also plenty of angsty bliss in their lyrics—some of which are so candid you aren't sure you heard them correctly. Set to bubbly pop rock melodies, McCann practically narrates his moody afflictions. "I've gotta give it to you, you give me problems, when you are not in the mood." Those lyrics  are singable and almost too relatable to even be in a song.
They also threw in a surprising acoustic ballad, "Hourglass" which the crowd ate up happily. Half of the patrons even pulled out lighters, swaying nostalgically along for the two minute show stopper as McCann gushed into the simple lines, "I'm so impatient when you're not mine, I just wanna catch up on all the lost times."
Though seemingly lost in rock band clichés, Catfish and The Bottlemen leave their listeners with an element of surprise through candid lyrics, rushing rock tempos, and a "too cool for school" mentality.
The show made a Wednesday night feel more like a Saturday night,  pushing a rush of young and reckless visions into the heads of each patron young and old. It was almost too easy to let your hair down during a performance that was both brooding, and sinfully sweet all at once.