British Bands Steal the Show at ACL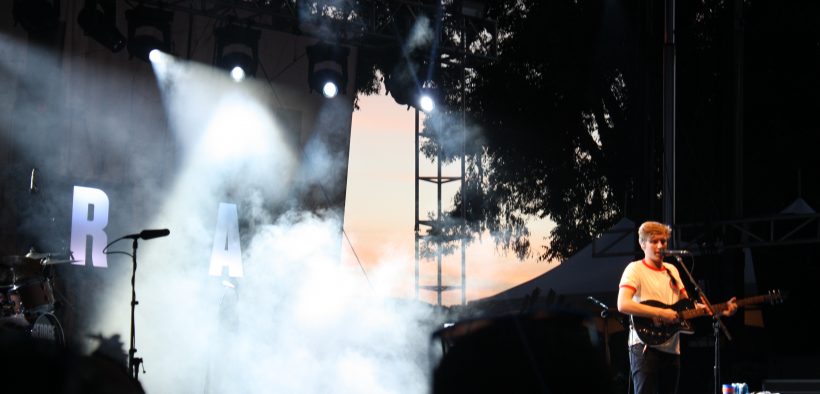 By Michelle Hershberger
Choosing which performances to attend out of the 130 groups performing at ACL is a challenging task. Each performance has its own special qualities and provides festival-goers with a unique experience catered to their whims. Here's the countdown of my three most memorable performances from Weekend 1:  
3. Glass Animals- A group from England, Glass Animals had a performance unlike any other at the festival. The group has a unique and difficult to describe sound—electronic synthpop with dashes of soul, R&B and even dubstep. Though they draw from many different styles, the result was a cohesive and distinctive performance.
Their backdrop, which featured neon leaves and plastic palm trees, reinforced the psychedelic nature of their music. You could feel bass in your body even far from the stage. Perhaps the greatest testament to the excellence of their performance was that the crowd was bouncing and dancing the entire time, despite the unrelenting afternoon sun.
Their setlist featured music from their debut album, as well as a few well done covers. The crowd was particularly receptive to their songs "Gooey" and "Cocoa Hooves." Glass Animals is not the type of band where the song that is playing matters too much—they have found their beat with cool and fun music, making it easy to dance along.  
2. George Ezra- Ezra's performance took festival-goers on a tour across the world without leaving the Austin Ventures stage. The British singer and songwriter took a month long train journey around Europe in 2013 which inspired his EP and album. Songs from the album were connected to the experiences and stories he lived on his trip.
"I would write down everything that I saw and I would take a note of everybody that I met," said Ezra. "And then when I got home I wrote songs about all the nonsense I had written down."
Ezra's deep voice and self-aware demeanor made his performance powerful and engaging. His cover of Macy Gray's "I Try," was released when Ezra was six years old, went over surprisingly well and could be considered a performance highlight.
Another obvious performance highlight was Ezra's smash hit "Budapest." And, like all many of his songs, he accompanied it with a story.
"I got put in touch with these three girls I had met in Sweden and these girls said that I could stay in their flat. And so of course I said yes. I got there and it was the EuroVision Song Contest Final in their hometown," said Ezra. "I bought a bottle of rum off a man in a park and that rum ended up inside me. And as a result I missed my train to Budapest but I've got this song if you'd like to help console me."
1. Years & Years- This London trio is one to watch with their distinctive style which could be considered the love child of electropop and R&B. Frontman Olly Alexander is particularly entertaining to watch and gives merit to the style and dance moves of your gangly middle school aged brother. The set included their well-known songs including "Take Shelter," "Shine" and "Desire"—all of which went over extremely well with the crowd.
Years & Years was in fact so well received by the audience that a huge crowd reaction was elicited every time Alexander took a drink of water. Alexander was committed enough to his performance to break the fourth wall and come into the crowd to sing one song, much to the pleasure of the front row.
When Alexander mouthed "I love you" to the crowd, a girl next to me insisted it was meant for her. The performance ended with "King," which reached number 1 on the UK Singles Chart, and had the entire audience singing along. As Alexander sang, "I was a king under your control," we were all under his control.