The Megaphone Rates New Austin Eatery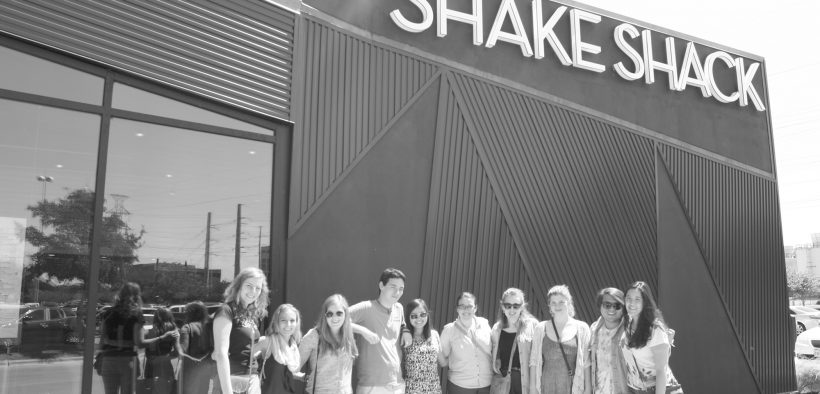 By Michelle Hershberger
What did the salad say to the food critic? Lettuce surprise you.
Surprise was certainly one of the main takeaways from a Megaphone staff outing to The Domain. A group of journalists and photographers, hungry for a story and an upscale dining experience, embarked on a journey to find the best food truck in Austin.
The surprise came when we found out the food trucks are closed on Sunday. All of a sudden, on the horizon, someone spotted a Shake Shack.
Shake Shack is a New York staple which began as a food cart inside Madison Square Park. It's popularity began to rise and now the restaurant has locations in 11 additional states. Shake Shack also has locations in 9 international cities.
My first Shake Shack experience was at a New York location three years ago. I have no memory of the food but recurring flashbacks about the line I waited in for a full hour and the lack of tables or even standing space available once the hamburgers arrived.
The Austin location provided a much calmer and spacious experience with the same upscale yet casual feel of the New York location.
I ordered the SmokeShack hamburger and a peanut butter and jelly concrete. The Shake Shack famous sauce seemed to be a glorified Thousand Island dressing.
The hamburger was as good as any other place around and had a particularly soft bun.
Now about the ice cream. Shake Shack features specialty ice cream flavors which rotate on a weekly basis. I was heartbroken to see my eternal flavor of choice, red velvet, would start its rotation the next day. Not being one to settle for vanilla and chocolate, I was locked into having the peanut butter and jelly flavor. The jelly made no flavorful appearance but the peanut butter came in strong for an overall pleasing experience.
I tried my companion's fries and hot dog. The fries are nothing to write home about but the ShackMeister Dog is certainly Shake Shack's crown jewel. The hot dog featured their signature sauce along with fried onion straws which complemented each other perfectly.
The official Megaphone stance on Shake Shack seemed to be that it is a slightly above average place with a stellar reputation. Go for the ShackMeister Dog and embrace the delightful experience which awaits.