Tallest Man on Earth Live at Moody Theater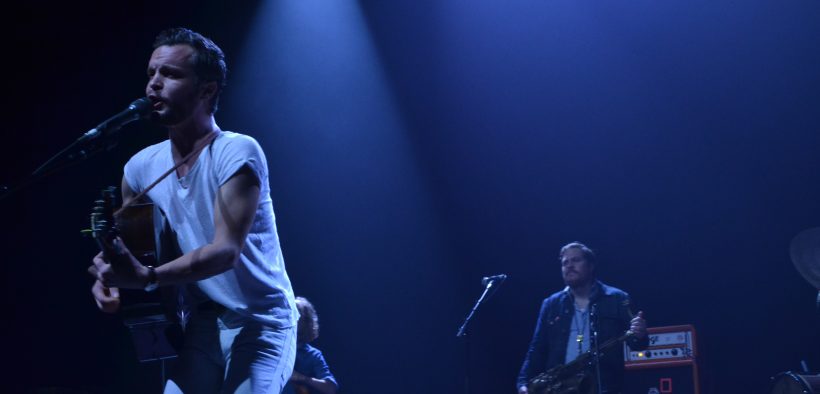 By: Emily Booher
Folk singer Woody Guthrie once painted on his guitar "This machine kills fascists" in an attempt to protest the movements of European leaders like Hitler during World War II.
While the world of folk music has come a long way since then, there is something to be said about the power of a good folk song. This was blaringly apparent as Sweden native Kristian Matsson, aka the Tallest Man on Earth, boldly took the stage of Moody Theater. Standing solo for the first couple songs with nothing but a guitar, Matsson brought alive his poetic lyrics with his signature passion, raspy vocals, and fiery soul.
Eventually backed by a four-piece band, ranging from a steel pedal to guitar to viola, each song was simply, but artfully conveyed as an homage to humble roots, and a simpler life. Singing of love, loss, childhood, and dreams, the show's vibe was as warm, and welcoming as that of an old friend. Kristian was nothing but charming and honest, opening songs with cheeky comments like, "This one is about my grandfather—if he would be around he would call me a dumbass."
Often prancing around the stage on the very tips of his oxford-adorned toes, Mattson had the energy of a rockstar. There were some very personal and sentimental moments, ones that he had no problem telling people to be silent for, as he did before playing the fan favorite, "Love is All." He declared sassily, "This is a quiet one, and I was raised not to be a jerk, but if you talk I will play super quiet so you can't hear."
His candor and sarcasm all lead to a balancing act, as songs such as "Where Do My Bluebird Fly, had such a melancholy undertone that it was apparent to the listener that Matsson's life wasn't always quite as simple as his folksy roots lead us to believe. As he crooned its haunting lyrics, "With all this fever in my mind I could aim for your kerosene eyes…", the room was invited and drawn into its beautiful darkness. Leaping over amps, back onstage for a rousing encore of "The Dreamer," and the anthem-esque "Like the Wheel" left the entire room echoing with a warm and nostalgic vibe.  
Mattson warbled his final lyrics "…oh my lord why am I not strong? …like the wheel that will take you home" with as much power as a preacher in a pulpit—almost twice as convincing.  It was the kind of music you can feel at home in, and it had both young and old singing along, and hollering in approval. If I learned anything from this sermon, it was to keep dreaming, and to keep prospering on like there's no tomorrow.