Sarofim Gallery Review of Brian Molanphy's Shore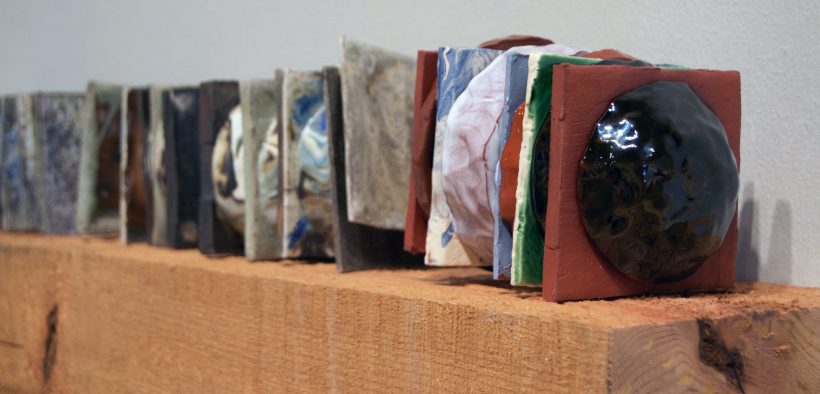 By: Katy Nave
The Sarofim School of Fine Arts was fortunate this month to welcome ceramic artist and Southern Methodist University Professor of Art Brian Molanphy to their gallery with a short opening reception of his show titled Shore.  
Multiple studio arts classes attended along with several faculty and members of the public. Professor Star Varner, painting professor and fine arts department head, opened with a warm introduction of Molanphy. who then invited any questions from guests about his work. Molanphy had done a more formal gallery talk that morning where he discussed his work and influences in detail. Students and visitors  conversed and wandered through the gallery.Particularly popular was Molanphy's tripelgänger piece, a large installation on the floor made up of small geometric sculptures that guests could walk through. Refreshments were also served.
Molanphy's Shore stems from three distinct series of his recent ceramic productions, titled Bring the End in Line with the Beginning, tripelgänger and Untitled.  Distinct in their separate inspirations and visual aesthetic, the three series are united under the title Shore by their commonly deep examination of the diverse range of meanings associated with the marginal boundary of land between low and high tide, the shore. This subtle metaphorical approach allows viewers' relaxed meditation on the varied visual elements of the sculptures.
Bring the End in Line with the Beginning  is a body of small quadruple and sometimes quintuple-decker "sandwiches" of square slabs and their variously articulated "filling."  Resembling spines of books on their display shelves, Molanphy explained that these sculptures are largely based in themes of temporal containment found in the writings of Marcel Proust.  The first and last layers of the sculptural "sandwiches," containing many sequential variations of form between them, function much like a story line that throws "the end in line with the beginning."
Adjacent in the gallery, displayed in a  9×11 foot grid on the floor, is Molanphy's series tripelganger comprised of exactly  99 individual sculptures. Actually only 33 different forms, each relatively simple geometric shape is repeated in the grid three times in different ceramic bodies and treatments. Based on architectural sketches by Francois Blanciak, the abstract forms suggest ceramics' oscillating role in the fields of architecture, painting and sculpture.
Finally, Untitled, combines  Molanphy's talent in paper making as well as ceramics to produce textured ceramic wall pieces that deny a defined foundation which is emphasized by the cast shadow of his handmade paper.
Molanphy's three series are distinct in their gallery installation. The  14 separate sculptures of Bring the End in Line with the Beginning are displayed on five gracefully installed three foot cedar shelves. A grid formed of tripelganger's  99 individual roughly  10 inch tall sculptures occupies a large  9×11 foot square on the gallery floor. Untitled's medium sized free form ceramic sculptures are hung like pictures against a large gallery wall.
The entire show offers an interesting variety of forms to explore and a special opportunity for the Southwestern community to investigate the work of an internationally known artist whose work can inform us all on the changing influence of tides in our own lives. The show will be available to visit in the Sarofim School of Fine Arts gallery through Nov. 19
[Best_Wordpress_Gallery id="16″ gal_title="Shore – Exhibition by Bryan Molanphy"]