ODK Anchor Award Winners Announced: Seniors Lentz, Severson cap Senior Years with Award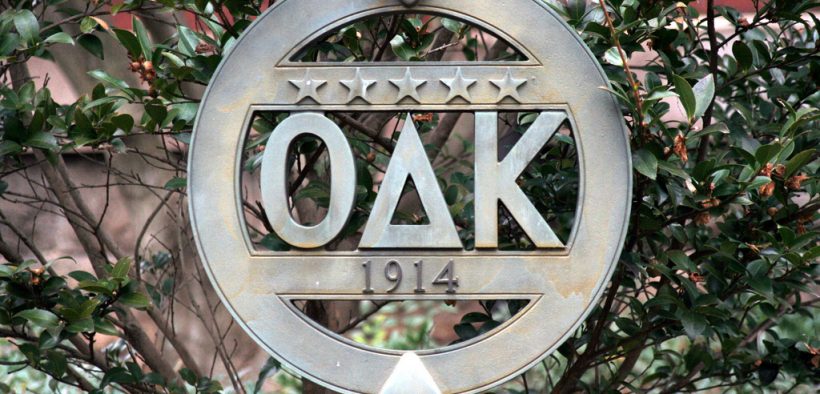 By Andrew Kevin Pratt
Omicron Delta Kappa (ODK) recently hosted their annual banquet and award ceremony to highlight the excellence of Southwestern leaders and athletes. One of the awards went out to two athletes for exemplifying the characteristics it takes to be a Pirate.
This award is presented to a male and female athlete who display the traits embody the spirit and character of the Southwestern University Community. It receives its name in symbolic fashion to represent a pirate who can anchor a team through the turmoil and strife that the rough seas that a long season can be.
This year the award was given to Senior Volleyball player Chandler Lentz and Senior Basketball player Carson Severson.
Lentz beat out Senior Basketball player Valerie Logan and Junior Lacrosse player Allison Schmitt for this award.
Severson claimed the award beating out Alvaro Rojas, a Senior Tennis Player, and Simon Gersib, a Junior Swimmer.
Lentz, a native of Forney, TX, has been on the volleyball team since she was a freshman and has been part of four volleyball teams over here career. Over her career, she has compiled a 107-37 record. This includes three trips to the NCAA Regional Tournament and a second place finish in the conference finals this past year.
Severson, a native of Flower Mound, TX, was a key leader this past year for the Pirate's Basketball team. This past year, the Pirates posted a 15-11 record, the best record that a Southwestern Men's Basketball team has had in over 5 years. The team made a push for a conference title, however fell short in the semifinals earlier in February.
Both Lentz and Severson said that winning the award was a humbling experience.
"I am honored to be recognized by the school, but winning this award definitely shows the type of program volleyball is and how it helped shape my character tremendously throughout college," Lentz said.
Severson said that it means a lot to be recognized by the Southwestern community. "I tried to lead my team by example and encourage and motivate my teammates on a daily basis," Severson said. "God blessed me with the opportunity to play college basketball, and I am thankful I was able to be in the position I was in."
Both recipients play key roles on their respective teams. Each of them agreed on the importance of portraying leadership qualities as a way to be successful as a team.
"Sports give individuals the opportunity to develop leadership skills, and when there is quality leadership within a team, success will follow," Severson said.
Lentz said that good leadership keeps teams on track to achieve a common goal. "Portraying leadership qualities in sports is crucial," Lentz said. "The leader has to be able to motivate others around them, while making everyone feel like they are valued and respected. It really is what keeps teams bound together."
Now that their college careers have come to an end, these strong leaders will be hoping that their legacy will carry on, helping guide the teams to success in the following years.
"The legacy I hope I have left behind is one where you don't take yourself too seriously, laugh at yourself a little bit and play for the girl next to you," Lentz said.
"When I joined the team, we were in a rough spot," Severson said. "We won a total of four games my freshman year, and the morale was extremely low. This past year, we won fifteen games and got to the semifinals of the conference tournament. This huge achievement can be credited to my senior class. We gave the program everything we had. We refused to listen to critics, saying that we would come in last place, and pushed each other every day in practice. I know the guys will only do better."