What's the Big Deal with Get Out?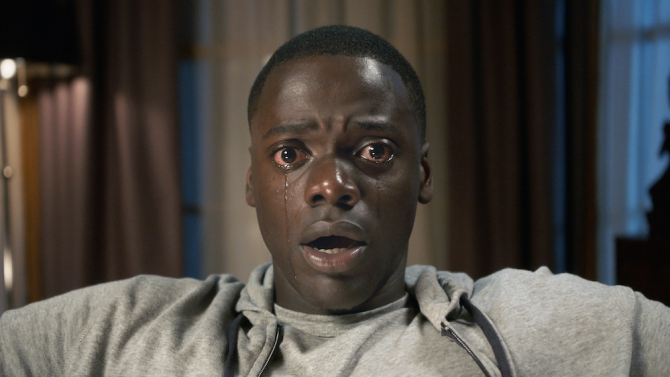 Cast: Daniel Kaluuya, Bradley Whitford, Allison Williams, Catherine Keener, Caleb Landry Jones, and Marcus Henderson
Director: Jordan Peele
Released on 24 February 2017, Get Out is one of the most talked about movies of this year thus far. Jordan Peele, known for his role in the Comedy Central show Key & Peele, debuts a shockingly thought provoking and chilling movie to the big screen while still incorporating elements to add comedic relief.
Get Out is not a "funny" movie, but it does include notes of dark satire. Peele stays true to the conventional tropes of the horror genre, yet he also develops a socially conscious plotline that addresses a form of racism that is often disguised as a strange sort of envy.
The movie begins with a black man walking alone at night in the suburbs. After the man is knocked out and kidnapped by an unidentified man, the scene changes to Chris Washington (Daniel Kaluuya) packing for a weekend away. Chris and his girlfriend, Rose Armitage (Allison Williams), have reached the point in their relationship when it's time to meet the parents. Chris is worried about a weekend in the remote white suburbs asking Rose if her parents "know he's black." She assures him that her parents aren't racist, and Chris continues to pack.
Upon arriving at Rose's parent's house, they are greeted with hugs and enthusiasm. Rose's father, Dean Armitage (Bradley Whitford), is a top neurosurgeon and makes remarks about voting for Obama for a third term if he could have. Rose's mother, Missy Armitage (Catherine Keener) practices the new-age psychological healing technique of hypnotism. Chris meets the only other black people within close proximity, the ground's keeper and maid. Chris tries to converse with them, but he can't get past an unidentifiable social boundary that keeps them from relating.
During a gathering of the Armitage's friends and family, envious and racially charged remarks are made to Chris about his superior abilities due to his genetic makeup. The audience can feel the cringe-worthy, yet slightly humorous tension of the remarks; they are awkward faux-pas that disguise racial prejudice as a form of flattery. Peele uses these moments of discomfort to develop the terror aspect of the film. It soon becomes obvious that the feeling of discomfort displayed by Chris and felt by the audience is justified, for the uncomfortable exchanges of blatant jealousy foreshadow events to follow.
Get Out lives up to the hype, for it is a successful and rare blend of satire, horror, and social commentary relevant to today's society.