Recap of Brown Symposium XXXVIII: Art & Revolution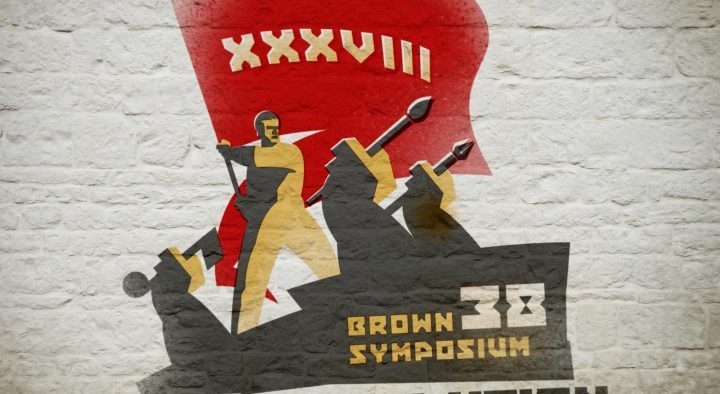 Southwestern University's 38th Brown Symposium took place March 1st-3rd in the Sarofim School of Fine Arts and was centered around the theme of contributions that visual artists, playwrights, authors, and musicians have had on revolutions throughout history. Officially titled 'Art + Revolution', the Symposium featured events from across all areas of the arts, from performances from the theatre and music department, a reception from the art department, and an array of contributors and guests speakers from across multiple fields.
Guest speakers included Luis Camnitzer, an internationally renowned German-born Uruguayan conceptual artist. Felicia Hardison Londré, a Distinguished Professor of Theatre at the University of Missouri. Reiland Rabaka, a professor and chair of the Department of Ethnic Studies at the University of Colorado at Boulder. Domnica Radulescu, a professor of French and Italian at Washington and Lee University and the founding director of the National Symposium of Theatre in Academe. Barbara M. Stafford, a recipient of the inaugural Media Art Histories Award for Contributions to the Field and has served as a Distinguished University Visiting Professor at the Georgia Institute of Technology and Distinguished Critic in their College of Architecture. And James von Geldern, a professor of Russian and International Studies and chair of Russian Studies at Macalester College.
Other contributors included professors in the departments of theatre, English, art, music, and even the Dean of the Faculty, President, and other faculty members were involved with this year's symposium. The next symposium will take place in 2019, with a sneak peek given on the final day of this year's symposium.
By: Sherlyn Ong
Southwestern held the Brown Symposium on March 1-3, 2017 on the topic of Art and Revolution. The symposium was directed by John Michael Cooper, holder of the Margarett Root Brown Chair in Fine Arts.
The symposium included many forms of art, including music, theatre and studio arts. There were also guest speakers who came to speak in this event. The guest speakers include: Luis Camnitzer, Felicia Hardison Londre, Reiland Rabaka, Domnica Radulescu, Barbara M. Stafford and James von Geldern. These speakers were all from various fields, including ones that were not in the arts. Other than the guest speakers, there were also students and professors who participated in the Salons.
The symposium opened with the performance of In the Next Room. It also featured five presentations by the individual guest speakers on various topics relating art and revolution. There were also two salons where discussions were held by conversants that were then extended to the audience. The symposium also presented the world premiere performance of Revolve/Retract by Jason Hoogerhyde, a music faculty of Southwestern.
These presentations brought forth many questions surrounding the topic. In one of the salons, the larger, abstract question of "What is art?" was brought forth. Stafford's presentation also further elaborated on that point. It discussed concepts like bioart, where living organisms are created into art forms, and the ethics behind such projects. It also reminded us that it is important to consider that most art forms in the past were considered too progressive at their times too, so we should reflect on how this may be the same thing we are currently going through.
Some presentations were more straightforward in addressing the theme of arts and revolution. In Rabaka's presentation, he discussed civil rights music as a form of art that stimulated and fueled the civil rights movement. He showed how certain music styles like blues and gospel were closely related to Black struggles and how the music motivated and represented the people.
Hoogerhyde's composition was also very unique because he wrote it with the concept of revolution. The musical structure and harmonies of the piece was centered around that concept and was excellently performed by the Line Upon Line Percussion Ensemble.
In all, the symposium provoked thoughts about how art, which could simply be an entertainment activity to people, could also be a powerful form that allows people to revolutionize the world they live in. It shows how art pushes past typical boundaries and allows people to express themselves in the purest forms possible.