SNL and Sisters Writer Paula Pell at Austin Film Festival Panel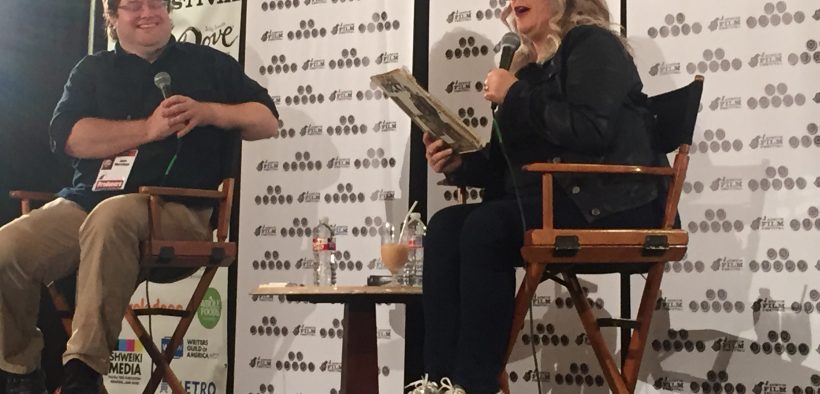 By: Michelle Hershberger
My favorite high school English teacher once told me the key to becoming a good writer is to find out who is behind the writing you love the most and study everything you can about that person's work. As I went through this process, I discovered the mind behind the writing I loved the most was Paula Pell's.
Pell was a writer at Saturday Night Live for about 20 years, beginning in 1995. She is behind some of the most iconic SNL sketches. Debbie Downer, Spartan Cheerleaders, Bobbi and Marty, Gilly, Suze Orman, and the Homocil commercial are just a sampling from her extensive resume.
In the past few years, Pell has transitioned to movies. Last year's Sisters was her first full-length feature film and is based off of the real life diaries Pell and her sister kept growing up in the 1980s. Pell has also contributed to This is 40 and Bridesmaids with the specific purpose of injecting humor and heart into the films' characters.
Within minutes of hearing Pell speak at the Austin Film Festival, it was evident humor and heart are what she does best. The highlight of the conversation was the moment Pell pulled out her pre-teenage diary, the very diary that inspired Sisters, to give the audience context into the writer she once was.
"You look up 'matron' in the dictionary and you see a picture of me at 13," Pell said. "I looked like a Polish farm wife."
Pell's diary included details about her rock collection, the transformative experience of her confirmation in the Catholic church, and photos with commentary on her favorite film at the time—Rocky. Pell's love for Rocky ran so deep she would tape record her and her friends viewing the film to relisten to their commentary at night in headphones. Showing an early appreciation for Rocky, Pell wrote about how everything about the film—from the characters to the plot to the music—so deeply moved her as a young teenager.
In the meantime, Pell's sister's diary detailed rendezvous with boys, sneaking out of the house and lying to their parents.
Despite penning her diary, Pell never considered herself a writer. She was acting and writing her own material at the time she was discovered by SNL. While meeting with Lorne Michaels, she was surprised to find out he was interested in her as a writer.
She's been a writer ever since and, speaking at a festival celebrating writers, she offered meaningful advice both to those who have always known they wanted to be writers and those who found out in a more round-about way.
"The best writing you'll do is something you feel something about," Pell said.
She described trying out for cheerleading every year and never making the team, which became the concept behind the Spartan cheerleaders.
"Joyful losers is what I like to write because I am one," said Pell.
This is Pell's brand of humor and, without a doubt, what makes her so charming and funny. Pell's humor is at once both self-derogatory and deeply empathetic. The characters she creates are a reminder of the joyful losers we love and the joyful losers we are.
Tina Fey once called Pell the funniest person she knows and it's obvious as to why. This brings up another point on Pell's resume—she is friends and collaborates with Fey and Amy Poehler.
Women in comedy are increasingly visible, though there is room for improvement. Categorizing oneself as a Tina or an Amy is a phrase that means something to people and is the subject of many Instagram captions and conversations. The Tina/Amy binary, though, leaves out many people, which is why it is important that we also have a Paula. As a Paula, I cannot say how grateful I am to have a voice represented for all of the formerly matronly teen girls out there.