Matt the Electrician: Humor, Music, and Austin Cool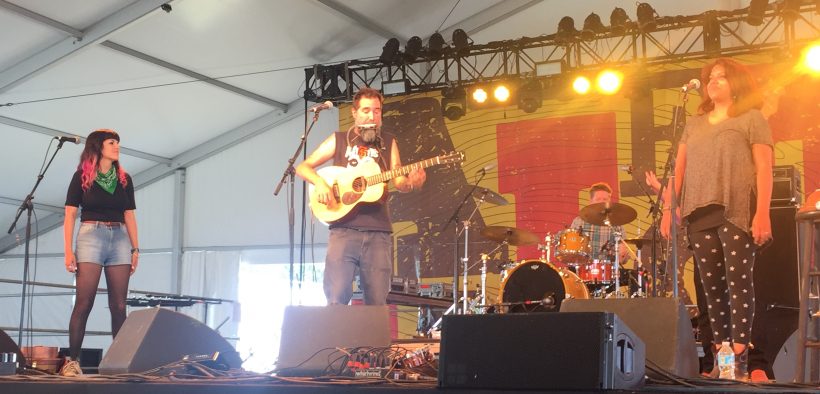 By: Michelle Hershberger
I first heard about Matt the Electrician from my older brother who has always had pride in his music taste being infinitely cooler than mine. While many of my moves in trying to take on his superior music taste have been incredibly ill-fated, becoming a devotee of Matt the Electrician represents one little step in the right direction.
One of the most distinct artists in the ACL lineup, I could not wait to see how the coffee shop vibe of Matt the Electrician translated to the Tito's Handmade Vodka stage.
I wonder if what makes Matt the Electrician so special is the way he embodies artistic integrity. After all, he was an actual electrician back in the day and humble working-class folk musicians represent a sort of relatability not easily replicated.  At his set, he mentioned how everyone was probably there because it was one of the only tented areas in the park. This was probably true of some people but you could tell the majority were there to experience his unique brand of storytelling and honesty.
The way Matt the Electrician blends humor with music is what makes him special. Humorous music is not something many people can master. The fact that Matt the Electrician can compose music which is awesome on its own and enhance it with jokes is a testimony to his creativity as an artist.
His lyrics blend concepts like the nostalgic and the contemporary—like his song "Facebook Friend" which was notably missing from the lineup—to create a sense of intimacy which is a true feat at a festival like ACL.
His set at Weekend One of ACL included his most beloved songs—"Osaka in the Rain," "Got Your Back," and "Little Hands"—all of were received with warmth. He closed on "Animal Boy," another crowd favorite and one of his songs which most exemplifies his warm and humorous lyrics.
Overall, Matt the Electrician's set was befitting of ACL with a laidback tone. Usually at ACL, the people surrounding you can give major indicators as to the type of show you are going to see. At this set, the audience was hard to pin down. The sea of people included a few big brimmed outdoor hats, a few people wearing UT polos, kids on shoulders with pastel colored hair, and space buns. It was the kind of show where people in white converse stood by people wearing generic white tennis shoes with tall white socks. And, as always with Matt the Electrician, it was a show with a story.