Piratethon: A New Tradition of Community Service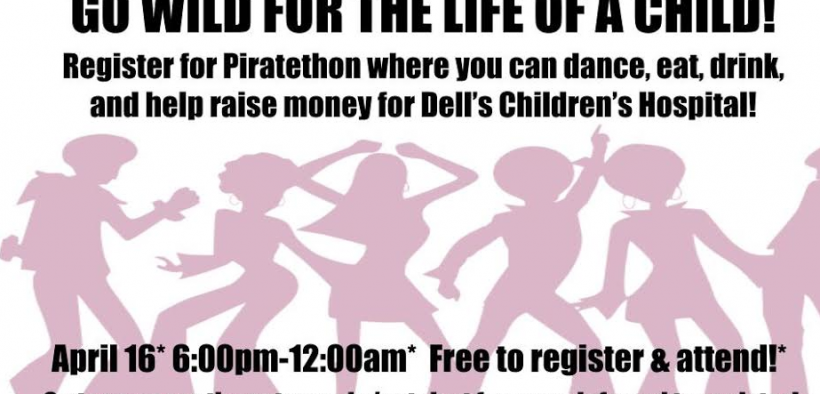 By Natalie DeCesare
Dell Children's Hospital serves 46 counties as a "miracle hospital," delivering life-saving treatment to the greater Southwestern University community.  The necessity for advanced technologies at the hospital led to a dance marathon fundraiser called Piratethon, taking place April 16. Along with the University of Texas at Austin, Southwestern aims to raise $20,000 to fund a new, technologically advanced ambulance. The Catalyst, Southwestern's student leadership organization, initiated Piratethon after becoming acquainted with the Children's Miracle Network.
"Back in March, members of the Catalyst had the opportunity to tour Dell Children's Hospital and get a better understanding of who this wonderful fundraiser will affect. The need for better technologies during the golden hour is extremely important. The golden hour refers to the 60 minutes of time following a traumatic injury, where there is the highest likeliness that prompt medical treatment will prevent death," said Catalyst advisor Jason Chapman.
Over 300 colleges participate in dance marathons for Children's Miracle Network, but Southwestern's Piratethon distinguishes itself by engaging local miracle families at the event and connecting the fundraiser to first-hand accounts of its impact on the community.
"We will have representatives from campus and the Georgetown area at the event highlighting the importance and impact that participants in Piratethon are creating. This is the first large scale campus wide event which unites Southwestern for one cause," said Chapman.
Participating teams use social media to fundraise leading up to the event. All proceeds, including registration fees and t-shirt fees, go towards Dell Children's Hospital. Students can access the registration on Southwestern's website, join a team, and set their fundraising goal. So far, over ten teams and $3,500 have been raised.
"I'm participating in Piratethon on the ADPi team for a few reasons, one being that a number of my ADPi sisters are members of the Catalyst, the organization putting on Piratethon, and I wanted to support them and their hard work. Also, the Children's Miracle Network and Dell Children's Hospital do really valuable work, and it's exciting to be able to support such an impressive organization by donating to a local cause," said Mary Eleanor Siff.
Catalyst has received positive feedback from students, and views Piratethon as a direct link between Southwestern's core values and the community.
"Since this will be the first year we have hosted this event at Southwestern, getting the campus to understand what it will look like and to embrace a new tradition has been exciting," Chapman said.
Besides supporting an important cause, winners of Piratethon will receive free ACL members, all the while keeping in mind that this is all for the kids.