Women's Team Prepares for Spring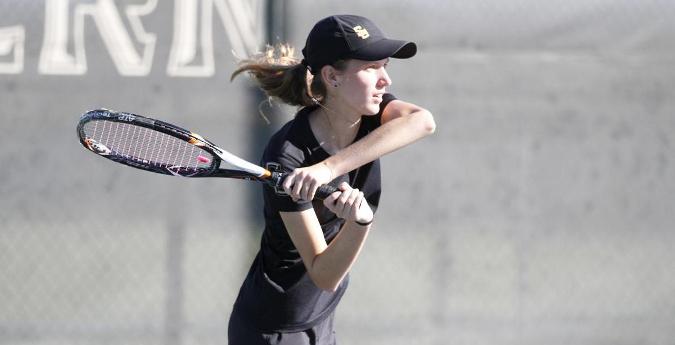 Photo Courtesy of SU Athletics.
By: Julie Swets
Time to compete. That is the theme for this season as the Pirate Women's Tennis Team gets ready for the Spring season. After adding three fresh faces to the lineup and a successful individual season in the Fall, the Pirates are prepared and eager to take on the upcoming team season.
Sophomore Emilie Moeller, the women's team captain, recognizes the challenges that present themselves to the young team, but she is confident in the direction the team is headed. "Our biggest goal is to make the conference championships this year," Moeller said. "We have a much deeper lineup this year, so that should help us a lot."
Moeller attributes much of the team's positive attitude and increase of competitive spirit to the talent and drive of the three first-years, Taite Drews-Jones, Jessey Martinez, and Anna Schneemann, and the leadership of the upperclassmen.
"The returners really stepped up and welcomed the first-years," Moeller said. "They have done this while being leaders to show the first-years the kind of attitude and the kind of work ethic we expect as a team." Moeller and the rest of the team look forward to competitive practices and matches due to strong internal competition.
One of the new first-years, Anna Schneemann, already has high expectations for herself and the rest of her teammates. "I want to prove to everyone here at this school that the tennis team is here and ready to go," Schneemann said.
She and the rest of the Pirate women's tennis team have been working competitively throughout the winter offseason to prepare for a challenging yet exciting season ahead.
After just one semester at Southwestern, Schneemann has recognized the competitive culture of her team, and she encourages the Southwestern community to come see the action for themselves. "We cheer each other on a lot," Schneemann said. "We're there for each other, and when the matches get loud, that's when it becomes more fun. Definitely come out and get loud."
The Pirates kick off their season with a home match vs. St. Edward's University of Austin, Texas on February 6 at 4:00 P.M. They compete in their first conference match the following week in Sherman, Texas vs. Austin College.