The End of the Line: Nicholas Mask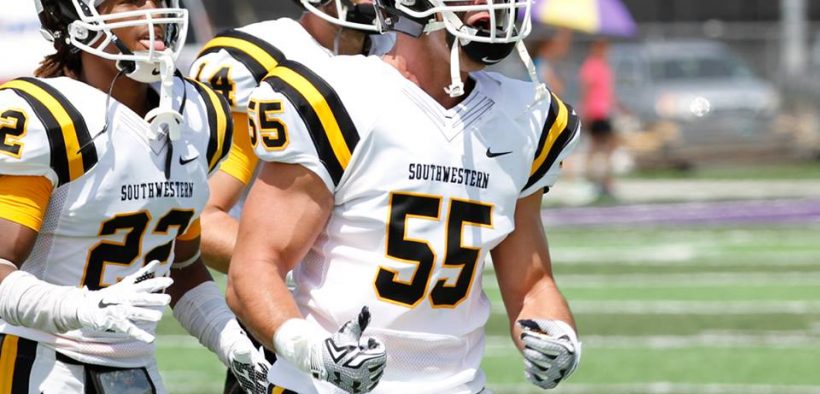 By Andrew Pratt
September's Male Captain of the Month has been awarded to Senior Nicholas Mask.
Mask is the only senior and one of the four captains within the Southwestern University's Football team. Mask is majoring in Kinesiology and minoring in Exercise & Sports Studies.
"I'm incredibly honored to have been named Male Captain of the Month," Mask said. "There are so many great leaders on our campus, both in the classroom and in our athletic programs, so to be considered among them is a blessing."
Mask, a native of Navasota, TX, spent his high school career at Thunder Ridge High School in Boulder, CO. He made his return to Texas when he had the opportunity to come be a part of history here at Southwestern.
Mask was one of the original eleven players who started the team.
"Leadership is doing everything in your power to better the team, no matter what is asked of you," Mask said. "I like to think that my teammates back me when things need to get done and respect what I have to say if I'm needing something from them."
Mask described how he kept up his admired energy and the energy of his teammates.
"I always try to talk one on one with as many teammates as possible, especially on game day," Mask said.  "I'll either try to crack a joke if they seem tense of I'll give them some sort of pep talk if they're getting into the zone. I just want each teammate to know I'll have their back and we need everyone's best effort whatever their role may be."
Admired by his teammates both on and off the field, Mask's teammates refer to him fondly as "Old Man,"
"Nick has been a really integral part of the team since the beginning," Junior Running Back Dylan Wilburn said. "He has always put the team first and plays to win."
Wilburn came to Southwestern along with Mask during the year before the program began. The two have since become the last two remaining members of that group still currently active on the roster.
"I try to look at what I do, how I play, as a way to inspire others to do the same," Mask said. "I don't like taking plays off. Whenever defense is off the field or I'm on the sideline, I'm cheering on my brothers. That is the way football is played. That is true brotherhood."
The team has done well in recent weeks. Last week the Pirates won their first away game in 50 years. The team's hard work continues with the season.  They have their home opener this Saturday against East Texas Baptist University.
"We are continuing to build consistency with our play," Mask said.  "We have a lot of great talent and experience now, so the key for us is to play to that potential and do it everyday. If we continue that path then there is no reason we can't have success in the very near future."
After this year, Mask will be looking to stay with the sport of football, however this time as a coach. When asked about his love for the game, he explained that there is just nothing like it in the world.
"The teamwork that it takes to be successful on the field is extraordinary," Mask said. "I want to help give other athletes the opportunity to learn that and do something they love."