Student Spends Summer Working on Organic Farms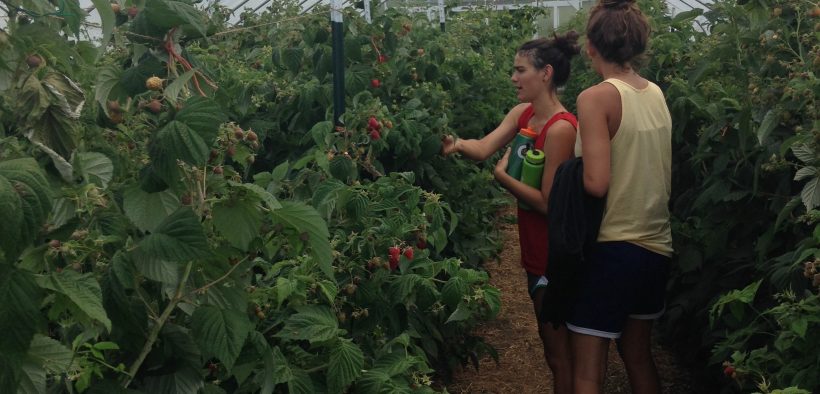 By Jayden Beatty
She woke up early every morning to do something she loved. Unlike many her age who spent their summers behind a TV or computer screen, her days were filled with weeding, general farm maintenance, and her favorite task, berry picking. Sophomore environmental studies student Sophie Elias spent a month in Massachusetts this summer working at three different farms as a part of the World Wild Opportunities on Organic Farms program (WWOOF).
The WWOOF was established in England in 1971. The organization puts a group of volunteers in contact with host farms around the globe. The volunteers can then organize a visit to a host farm for a short or extended period of time. While on the farms, volunteers are expected to contribute to its' day-to-day activities. There are both national and international WWOOF groups as well as independent farms in a variety of countries that are willing to host volunteers. Those countries include Afghanistan, Albania, Antigua and Barbuda, the Bahamas, Benin, Bosnia, Bolivia, the British Virgin Islands, Cambodia, Cyprus (Northern), Dominican Republic, Egypt, El Salvador, Fiji, Finland, French Polynesia, Gabon, Georgia, Guinea, Haiti, Iceland, Indonesia, Iran, Jamaica, Jordan, Kenya, Laos, Madagascar, Malaysia, Malta, Mauritius, Mongolia, Montenegro, Morocco, Mozambique, Nicaragua, Pakistan, Palestine, Panama, Russia, Senegal, Seychelles, Slovenia, Tanzania, Tonga, Trinidad and Tobago, Tunisia, Ukraine, Uruguay, Vanuatu, Vietnam and Zambia.
According to the foundation's website, "WWOOF is now recognized as having an important contribution to make in the wider organic world as it brings more and more people into direct contact with organic growers both independently and through other organizations who are trying to influence policy and consumer demand."
Elias worked on a vegetable production farm, a berry farm, and a farm where the owner was simply growing her own food. At these farms Elias weeded for hours, moved mulch, did some general farm cleaning, and harvested crops. Despite the manual labor, Elias said that her experience was not difficult.
"Nothing was really hard because I got to do something I love all day," Elias said "Waking up early wasn't fun but it was worth it and I didn't miss fast food or anything because I was eating even better food."
Elias said that farming opened her eyes to how petty the things people worry about are.
"This was the most rewarding work I've ever done." Elias said. "You actually get to taste your success. It's really important to have a connection with what you eat because it connects to everything."
Elias now plans to attend Massachusetts Farming College where she will learn the technical work of farming. Then she hopes to own land in an area like Hawaii with her cousin to start a fruit farm.
"This trip gave me direction because now I know what I want to do and how its possible," Elias said.
Elias encourages the SU community to think about where their food is coming from.
"In the real world nothing just gets handed to you," Elias said. "Working on a farm, you realize the work and the effort that's put into just one meal.  People take everything for granted or just take the easy way out."
For more information go to www.wwoof.net