Aesthetic Changes to Campus Establish SU Identity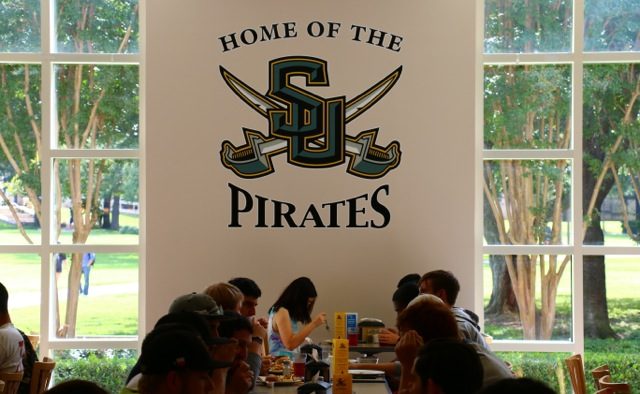 By Katie Temple
The Spirit Committee hopes to increase school pride through changes made to campus aesthetically. Changes invoked this summer include the integration of the University's logo and color scheme into buildings campus-wide. The Spirit committee was created early in the spring semester of the last academic year in hopes to further foster school pride across campus.
"The initiative came from President Burger, who asked me to work with student leaders to boost campus spirit," Vice President of Student Life Jerry Brody said. "The student leaders, in turn, noted that the University needed to do its part as well. That discussion with me led to the idea of creating a Spirit Committee."
The committee is a coalition of students, faculty and staff with membership increasing as the new academic year presses onward.
"Campus buildings and public spaces did not reflect our spirit and pride in SU," Brody said. "The mission of the Spirit Committee is to visually show enthusiasm, pride, and spirit in our campus buildings through signage, color schemes, framed images, and so on – to visually show pride in our University."
These changes can be seen across campus, from the University seal plastered across the Robertson Center doors to the new logo on display in the Commons.
"Even the subtle changes you can see around campus this year, from the new decals to the pirate bike on display in the Cove, make a huge difference," sophomore Lauren Bailey said.
The committee will continue its work this year focusing on placing photos of students around campus and to feature students artwork in the Commons.
"These changes really help to remind you that you are in fact at [SU]," Bailey said. "It also reminds you that you're really proud to be a part of this community."